The country's Junior lawn tennis players were recently placed in competition mode when the Bakewell Junior Open Championships were launched.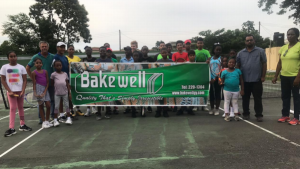 This collaboration between the Guyana Lawn Tennis Association (GLTA) and the Nasir & Nasir Company Limited is seeing its 7th edition in 2019, after being initiated in honour of the company's late CEO, Naeem Nasir.
The late founder and CEO of Bakewell, Mr. Naeem Nasir, was said to be a committed supporter of junior sports development and an avid tennis player. Following his demise, his successors at Bakewell came up with the idea of the tennis competition as a means of keeping his memory alive.
Speaking at the tournament's opening ceremony, which was hosted at the National Racquet Center at Woolford Avenue and Camp Road, Georgetown, Bakewell representative Jacob Nanan placed emphasis on the company's commitment to see youths develop in tennis and other sports.
"The company is always pleased to sponsor the event, to ensure continued junior sport development and give young players opportunities to compete," Nanan stated.
This year's competition is set to run until September 21st, 2019. It currently features players in the Under-12, Under-14 and Under- 18 categories. Matches are scheduled to be played both at the National Racquet Center and at Le Ressouvenir Tennis Court on weekends.