…as protesters attack Fire Service vehicles
Nine fires were set in the town of New Amsterdam on Tuesday evening as violence associated with the killing of the two teenagers in Region Five (Mahaica/Berbice) spread to Region Six (East Berbice/Corentyne).
The Fire Service has also reported that an officer was shot after assisting Joint Services officers to clear up the roadway in Region Five (Mahaica-Berbice).
Following a protest at Main and Pitt Streets in New Amsterdam on Tuesday afternoon, rogue elements took to the streets and lit several fires around the town. The first was at Main Street and Shoe Lane, and then another was lit at Main and New Streets.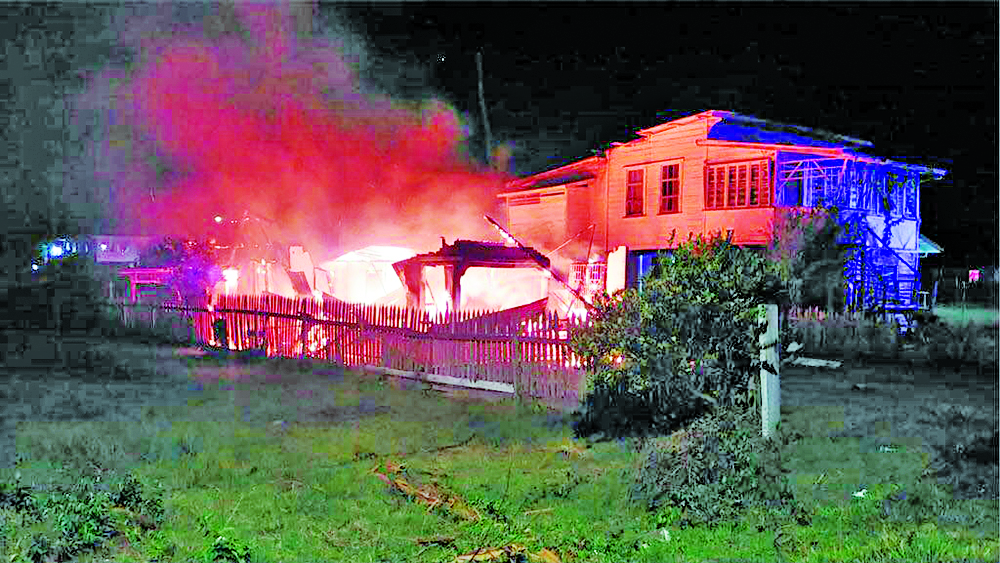 Divisional Fire Officer Maimchandra Persaud said Fire Service officers were also attacked by persons bent on destruction. He noted that the Police had to disperse the crowds and clear the way for them to extinguish the fires.
"I would have received a few reports of some of the protesters throwing missiles at the fire trucks, but no severe damages were done," Persaud explained.
Meanwhile, New Amsterdam Mayor Winifred Heywood, speaking with reporters on Wednesday morning, explained that she was actively involved in trying to get residents to desist from destroying the Town's property. According to her, she engaged some residents on Republic Road after the Police and Fire Service had extinguished one fire which was set on the roadway. She asked the residents to desist from destroying the roads.
"I had them for a while. I said, 'This town is a town that we need to care, and you can't take out spite on this road because of what happened'. They listened to me, and when the Police left, they put their stuff back on the road and started to light the fire," the mayor recalled.
She said she is aware that family members and friends of the teenagers are hurt over what happened; however, they are not the only ones.
"We, too, would have felt sorry," she added, while explaining that she was dressed in black and white as a mark of sympathising with the mourning.
"On Monday, we were there with those families. Yesterday we had a beautiful protest, and I really appreciate that, not knowing that in the evening people will come and destroy the road."
In denouncing the actions of the rogue elements in the town, Mayor Haywood said any structure on the town must be cared.
"Where will the money come from to repair? This Council does not have."
Deputy Mayor Wainwright McIntosh, in offering condolences to the family of the two teenagers, condemned the actions of those who were out to destroy and harm persons. He called on all religious persons to pray for peace at this time.
"As a Guyanese, it is quite heart-breaking to see that we would have failed to embrace our national motto: One People, One Nation, One Destiny."
He also cautioned persons to adhere to the National COVID-19 guidelines so as to protect themselves from contracting COVID-19.
"Guyana is currently going through a crisis, so I am calling on all religions to champion the cause though the means of prayer and supplication. We cannot continue to endure the lawlessness that we are seeing in today's society," McIntosh added.
Meanwhile, in Region Five, as violence continued into the night, the Joint Services kept up their presence to maintain some form of order.
However, fires were still being light at Hopetown, Bush Lot, Numbers 28, 29, 30 Villages, and at Litchfield.
In fact, one house at Number 22 Village was burnt.
The building was owned by John Hiralal, who was not at home at the time. Persaud told this publication that the Fire Service responded, but by the time they arrived, the entire building was engulfed. Nothing was reportedly saved from the building.
However, the senior Fire Service officer further revealed that the blaze spread to a second house, and his men were able to extinguish that fire without this second building sustaining much damage.
It is believed that the initial fire was a result of an act of arson.
According to Persaud, a Fire Service officer who worked for almost two days was pushing his motorbike home because of the huge number of broken bottles on the road when he was shot.
"He was traversing the road to his home in civilian clothes, and he sustained injuries as a result of gunshot wounds," the Fire Officer explained.
The injured officer has been identified as Tyrell Ralph. He is currently a patient at the Fort Wellington Hospital. Health officials are awaiting opportunity to transfer him to the New Amsterdam Hospital for surgery. (G4)