…in urgent need of a liver transplant
A nine-year-old and his mother are appealing to the public for financial assistance to offset expenses to be incurred in his much needed live-saving liver transplant procedure.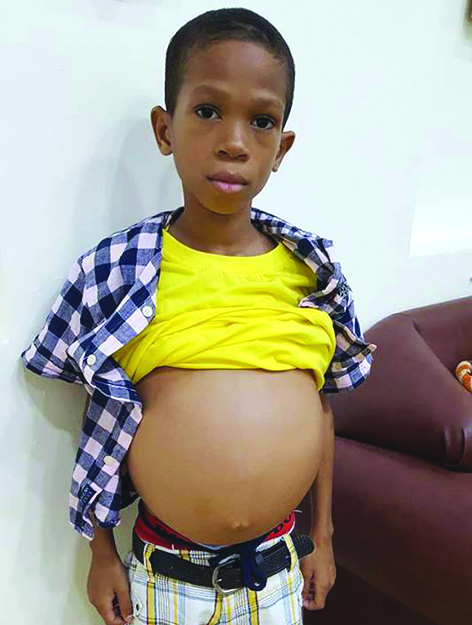 Jamal Williams of Lot 248, West Indian Housing Scheme, Bartica had, in January 2016, been diagnosed with a tumor on his liver, sustained when he was injured during an accident at school.
It was not until he was rushed to the hospital crying out in pain that a tumor was discovered on his liver. The nine-year-old has since been the object of a series of medical emergencies, forcing him to frequent hospitals.
Natasha Williams, the mother of the ailing child, is now left jobless as she is occupied with caring for her child, who suffers with a swollen stomach and a series of medical complications that affect his daily life.
In an interview with Guyana Times, this distressed mother explained her experience ever since Jamal was diagnosed. "He was a normal child, but since he was diagnosed with this tumor, it became a real difficulty for me," she explained.
She added, "It got times with Jamal take in you don't know what to do, life don't be easy for me. I does got to run up and down in hospital with him, because Jamal's complains are very serious."
She has resigned herself to dedicating her time to caring for her one son, who is sickly. She related that the task is difficult, especially since it often results in the neglect of his five other siblings.
Meanwhile, the nine-year-old, in his cry for assistance, outlined his plight brought on by the tumor. "Sometimes my belly start to hurt, I faint away, I can't breathe, I get short of breath," the young man told this publication. His condition has caused him to not attend school for more than a year.
As his condition continues to deteriorate, Jamal is in urgent need of surgery; but his family is unable to afford the costly procedure, especially since it cannot be conducted in Guyana.
The cost of the surgery, which will be performed in India, is US$50,000. However, given that the organ sample needed for the transplant would most likely be donated by one of his parents, they person now needs to raise additional funding to cater for travel, accommodation and other expenses during the journey to India.
As such, Williams is asking the public to assist in ensuring her son receives the surgery he needs to survive.
"…I am a poor woman, so I am pleading with the public in Guyana so that they can see with me to just save a life. It could've been anybody's child. Life is what matters…," she declared.
Adding to the appeals of his mother, Jamal is reaching out to citizens to aid in his fight to stay alive.
"Can you help me? I want to live to grow up and see my mother get good, and I want to go back to school," the child told this publication as he seeks help for his surgery.
Persons desirous of making a donation towards Jamal's surgery can do so by depositing their contributions in Scotiabank account #175-441 or contact his family at +592-690-5092, +592-689-0957, +592-673-4238 or +592-661-6106 for further information.