…child dies, mother arrested
Shockwaves are rippling through the West Bank Demerara (WBD) village of La Grange, following the death of a one-year-old, who met his demise after he was reportedly fed carbon tablets (rat poison) by his nine-year-old brother. The dead child was identified as Andre Keron Tappin of Lot 18 La Grange Public Road, WBD.
While information was still being gathered on the ghastly killing, Police Public Relations Officer (PRO), Superintendent Jairam Ramlakhan confirmed reports that young Tappin was taken to the Georgetown Public Hospital by his mother after she observed he was vomiting on Wednesday. Reports stated that the child would usually be left in the care of his nine-year-old brother on numerous occasions. Guyana Times was told that the nine-year-old boy sometimes misses school to care for his brother. This was said to have irritated the older brother, who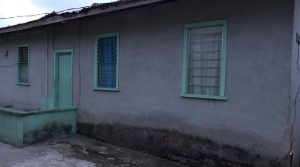 decided to feed the pills to his baby brother.
It was only after the mother noticed the toddler's condition that she was informed of what had transpired. It was reported that the nine-year-old admitted to what he had done. The baby was meanwhile rushed to the hospital but not much could have been done to save his life and he subsequently died. The mother was taken into custody at the Den Amstel Police Station where she is said to be assisting the Police with their investigations.
When this publication visited the village, some of the neighbours seemed to have not had much interaction with the family and one man said he had only heard of the incident after the toddler's death. Another individual, who knows the detained woman explained that the mother of the child was very soft spoken. It was not clear what role the father of the nine-year-old played but reports stated that he informed the boy's teachers that he would not attend school on Thursday.