– promises more support for sport
At the end of the third edition of the Kares Engineering Fitness Challenge, General Manager of the title sponsor, Dennis Nandan explained why the company has made such a sterling contribution to this event as well as making a commitment to support a wide cross section of sport across the country.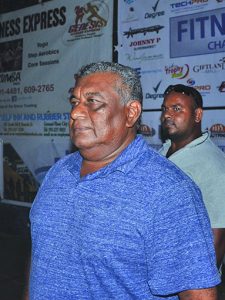 Speaking with Guyana Times Sport immediately after the presentation on Sunday night at the National Park Thomas Lands, Nandan said "youths are who we try to invest in since they are the ones who will take over from us when we are gone so we look forward to the youths replacing us."
Impressed with the strength and endurance of the folks that participated, Nandan was particularly excited to see Dillon Mahadeo and Semonica Duke, who eventually were crowned the winners of the male and female category respectively.
"Seeing these youngsters push themselves so hard was something unbelievable and Guyana has a long way to go as I said before a healthy nation is a wealthy nation," Nandan said.
While across the world people are increasingly paying attention to their health, Guyanese included, the General Manager noted that it is the homes that fitness and wellbeing must start; parents must train their children to have a healthy lifestyle.
He encourages the parents to invest in healthy foods for their children and be more actively involved in outdoor sports rather than be indoors on computers and gadgets all day, this will in turn keep them healthy and physically fit.
Not only does Nandan encourage parents to take a healthy nutrition into consideration, but he also asked that federations foster these athletes in the best direction for them to excel.
President of the Guyana Olympic Association, K. A. Juman Yassin has already indicated that it is the Olympic Association's desire to have all the elite athletes come under a nutritional programme.
Consequently, Kares Engineering has promised to continue to invest in sport across the country, as well as hinting to an expansion of this challenge next year.