The man, who allegedly drove a motorcar which killed a Corentyne, Berbice, Region Six (East Berbice-Corentyne) man on Saturday afternoon and then allegedly fled the scene, was on Tuesday placed on $300,000 bail when he appeared at the Springlands Magistrate's Court to answer three charges.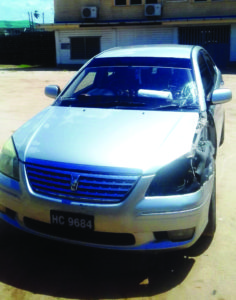 Yadesh Rooplall of Crabwood Creek appeared before Magistrate Alex Moore.
It is alleged that on Saturday last, he drove the motorcar bearing registration plate number HC 9684 causing the death of Premchand Harripaul. The body of 27-year-old Harripaul, of Number 69 Village, Corentyne, was discovered lying on the parapet at Number 76 Village.
At the scene, investigators discovered what appeared to be small pieces of a vehicle's headlamp on the parapet, about three feet away from the body.
Rooplall was placed on $200,000 for that charge.
He was also slapped with two other charges. He is accused of failing to stop after an accident and failing to render assistance to an injured person. He was released on $50,000 for each charge. The case will continue on December 19.
Meanwhile, an autopsy performed on the body of Harripaul on Tuesday by Government Pathologist Dr Nehal Singh, gave the cause of death as shock and haemorrhage as a result of multiple injuries about the body.