Reebok CrossFit Games 2020…
With a little under six months left to prepare, Guyana's female CrossFit maestro Delice Adonis is completely focused on making her second appearance at the Reebok CrossFit Games a better outing than the first had been.
Following the qualification process late last year, Adonis and her male counterpart, Guyanese Dillon Mahadeo, received their invitations to the top-notch event just last week.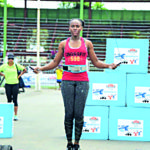 "It was really an eye-opening experience; and I got an idea of what I need to work on, and I have been working on those things while also keeping a balance in my training regimen," Adonis told this publication about her first outing, back in 2019.
While she did not downplay her first outing at this highly competitive CrossFit event, Adonis revealed that neither she nor Dillon Mahadeo had any idea what to expect at such a high level of competition. She said the event was a hurdle in the road for her personally, and she hopes to correct her performance in 2020.
"I'm thankful that I get to do this for another year, and I'm looking forward to the competition; being more serious this time around, because last year we really didn't know what to expect, we kind of just went for the experience; but this year it's actually about competing and making a name for ourselves," she explained.
Asked about any difficulty she has thus far encountered in her preparation, Adonis disclosed that her only difficulty is the uncertainty she experiences.
"We would hear rumours of things they would bring, but you don't really know until you're actually there and the crew or organizers actually tell you what you have to do. So, it's hard to prepare for it, because you don't know what to prepare for," she explained.
Uncertainty notwithstanding, Adonis is confident in her ability to perform against international competition.
"I'm just looking to go out there and be able to say that I gave it my absolute best; that I didn't leave anything at all on the competition floor; and that I was prepared for it. I want to be able to walk away and say there's nothing more I could have given," Adonis noted.
While this athlete is unsure about participating in the Kares Caribbean CrossFit event to be staged on February 9, she disclosed that her training ethics and regimen are specifically tailored for the Reebok CrossFit Games, and she would not be dabbling in anything too intense for now, but as competition time draws near, her training would be ramped up.
"It (training) is still at about the same intensity that it was at coming down to the end of last year, but that's simply because you don't want to peak too early and your body starts to wear by the time the Games come around; so, it's been pretty steady training," she detailed.
The Reebok CrossFit Games, where titles like 'fittest man on earth' will be up for grabs, will be staged in Wisconsin, USA from July 29 to August 2. In 2019, Adonis finished 117th out of 134 competitors.