− AFC USA Chapter Chair says vaccination "surest way" to control pandemic
The Government of Guyana has been doing everything to ensure its citizens are vaccinated against the COVID-19 virus while many members of the Opposition have been busy casting aspersions on the vaccines and the vaccination policy.
However, on Saturday evening, former Minister and Opposition Member of Parliament Cathy Hughes hosted a programme during which she engaged a veteran Emergency Medicine specialist who sought to answer questions regarding the vaccine as well as encourage citizens to take the jab.
Hughes, was at the time hosting her party's – Alliance For Change (AFC) – social media show, Alliance on the Move with Dr Rohan Somar.
Dr Somar has over 25 years' experience in the medial field and currently resides in the United States of America. He also serves as the Chairman of the AFC's USA Chapter and served as Ministerial Advisor while the APNU/AFC Coalition was in Government.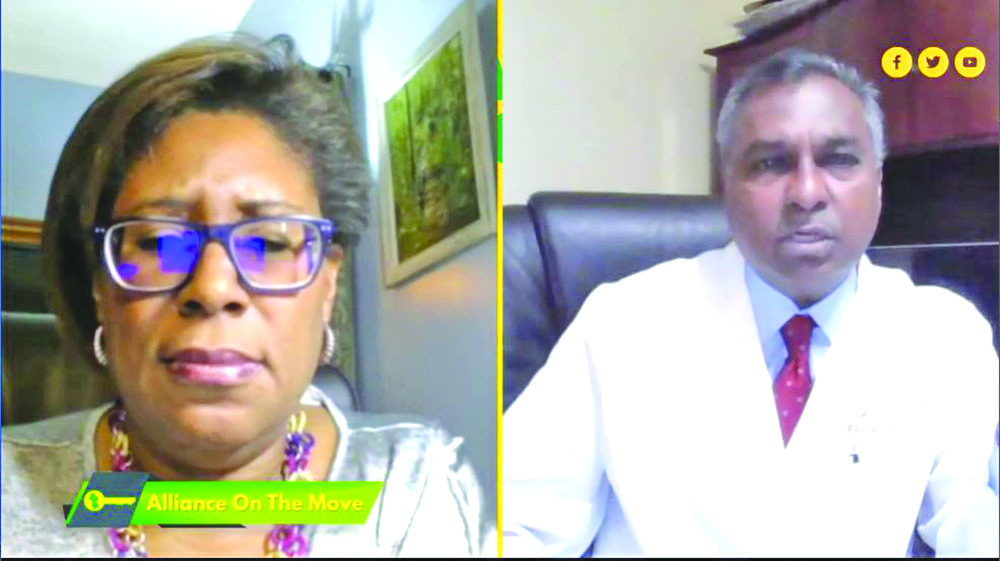 Leading Dr Somar into the vaccination discussion, Hughes explained that she and almost all the members of her family are vaccinated but identified that many Guyanese are hesitant when it comes to taking jabs.
"I do know that it is a personal decision and unfortunately in Guyana, we still have lots of people that don't want to take the vaccine, I actually think that in some cases is because they have concerns that have not been addressed, and therefore I wish that the government would spend more time having doctors available so that citizens could call up somebody and ask the questions or raise their concerns…tell us a bit about why citizens should get vaccinated and how you could allay some of the fears," she asked Dr Somar.
In response, Dr Somar explained with over 220 million persons, worldwide, infected with COVID-19, it has always been a pandemic of the unvaccinated. He furthered that when the pandemic first started, everyone was unvaccinated and it began spreading like wildfire and now with vaccines in play, it is being controlled in areas where there is heavy vaccination.
"The only way, the surest way, folks who are listening, to help control this pandemic and get ourselves back to regular order to enjoy the things and the liberties that we all cherish, is through vaccination. That is the sheer absolute surest way to mitigate the spread and control it so we can get to that place where you want to get back to normal," he said.
The doctor added that in order for the world and Guyana specifically to get back to some sort of normalcy, herd immunity has to be achieved. Providing statistics, Dr Somar based stated that Guyana's fully vaccinated number stands at 23.57 per cent adding that there is still more work to do before herd immunity is achieved.
"Any community, any government in any nation has to do everything they possibly can to vaccinate their population so that community members, their family members, so that we can all get to a place (of herd immunity) …So if you're a parent and you have kids who are 12 or over, please get them vaccinated, especially if you have younger siblings in the home or in the community. That's the only way to protect them wow, in addition to the mass until they're able to get a vaccine," he added.
However, based on the Ministry of Health's numbers, Guyana's vaccination numbers reflect almost 35 per cent of the population being fully immunized. The vaccines distributed in Guyana are – Pfizer (for children 12-17), Johnson and Johnson (primarily for hinterland residents), AstraZeneca, Sinopharm and Sputnik V.
Encouraging vaccination, Dr Somar explained that while some questions regarding the vaccine are legitimate, he believes that a vast majority of folks succumbing to vaccine hesitancy are being exposed to the misinformation on social media. He urged persons to ensure that they get their information from trusted sources like their doctors, healthcare providers, clinics and Health Ministry.
Vaccinated and contracting COVID
Hughes, during the discussion, brought up the notion of vaccine hesitancy where by Guyanese are questioning the reason for the jab because it does not prevent them from contracting the virus. Additionally, she asked the doctor to address the issue of the fast development of the COVID-19 vaccines since it appears to have emerged within a six-month period when vaccines traditionally take decades to develop.
Seeking to address the questions, Dr Somar explained that the COVID-19 vaccines on the market are either mRNA or adenovirus. The mRNA vaccines are artificially made using new technologies and those have been in production for decades, according to Dr Somar. He explained that though it may seem as though the coronavirus vaccine just sprung up, it is far from the fact.
He explained that with SARS virus in China and MARS in the Middle East, both from the coronavirus family, mRNA vaccines were created to treat those outbreaks and because they did not spread as rapid as COVID-19, mass production was not required.
Additionally, the adenovirus vaccines utilize technology that has been around for centuries.
"Not only that, they have been tested, proven to be effective and as excellent safety profile which is critical," he said.
Therefore, he encouraged that the vaccines are effective and everyone should take them once eligible.
"So, here's the key, everybody who gets a vaccine, the vaccine will prevent you from getting sick from COVID, needing to be hospitalized and certainly die. That works about 100 per cent of the time. If you get a vaccine, just like you get a flu vaccine, it does not prevent you from being infected…the key is if you're vaccinated, that infection will not spread to sickness, hospitalization, or death. That's what you want a vaccine to do. That's what a vaccine does," Dr Somar related.
Several APNU+AFC politicians and supporters have been protesting against the COVID-19 guidelines which require persons to be vaccinated before they can access certain facilities like restaurants, cinemas, and casinos.
Additionally, the measures mandate that public transportation operators must be vaccinated. The government is also in support of private companies mandating that unvaccinated employees to submit regular PCR tests at their own expense.
Unvaccinated persons are still able to access government services but they must first make appointments.
Opposition Leader Joseph Harmon would have contributed to the national vaccine hesitancy by casting doubts on the authenticity of the Sputnik V vaccine which are being used in Guyana.