A man who escaped from the Mazaruni Prison more than a year ago was arrested on Tuesday after he turned up at the Mahdia District Hospital, Region Eight (Potaro-Siparuni) with a knife stuck in his neck.
Samuel Gouveia, 27, a high-profile convicted prisoner, was identified at the hospital around 04:30h.
Commander for Regional Division Eight, Senior Superintendent Michael Kingston indicated that Gouveia was wounded about 23:30h on Monday last at Mowasie landing, Konawaruk after he had a heated argument with another man over money.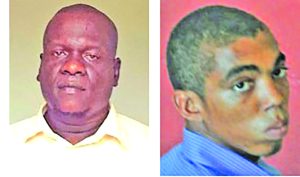 As a result, Gouveia was stabbed to the left side of his neck, with the knife being stuck there. After the incident, he went to the district hospital to seek medical attention.
While there, Police said, he was positively identified by a prison officer, as well as by records and tattoos on his left hand. He was later escorted to the Georgetown Public Hospital, where he was admitted.
He is presently under Police guard at the said hospital as investigations continue.
Gouveia was convicted of manslaughter and sentenced to 18 years and nine months in prison for the offence. He had stabbed to death 35-year-old Santee Solomon on November 23, 2015, at Puruni Landing.
Solomon, of Line Path, Skeldon, Corriverton, East Berbice, was working in the interior with Bacchus International Gold Mines when he was killed.
Escape
While serving his time, Gouveia and three other prisoners escaped from the prison. The others were Imran Ramsaywack, Kenrick Lyte, and Ryan Jones. Ramsaywack and Lyte were on death row, while Jones was convicted of manslaughter.
It was reported that officials realised that the four prisoners escaped from the maximum-security prison during the unlocking of the Brick Prison (Solitary Division).
It was observed that the padlock to the entrance gate had been tampered with, and further checks revealed that two bars within the cell were cut.
After the discovery, the Emergency Action Plan related to the escape of inmates was immediately activated, and a joint patrol was established at the outer perimeter of the prison, but no one was seen.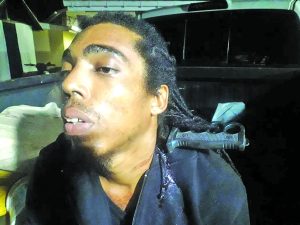 After the incident, several prison officers who were on duty at the time were questioned and taken off of the job until investigations were completed. In addition, 60-year-old Ralph Jones, the father of escapee Ryan Jones, was arrested, charged, and remanded to prison after he assisted the fugitives.
He had confessed to offering the escapees a change of clothing and he took possession of the clothes they were wearing at the time and disposed of them at the back of his house.
After leaving the man's house, the four men reportedly stole a boat from Karrau, Essequibo River, which they used to travel to Bartica.
Sometime later, during a shootout, Ramsaywack and Jones were killed, and a third person – Savita Rajkumar, 49, also called "Debbie", of Better Hope South Squatting Dam, was also killed. She was reportedly a close acquaintance of Jones.
It was reported that on the day in question, Police received information that the Mazaruni Prison escapees were hiding out at a location in the Better Hope South backlands.
As such, a team was deployed to the area, and a male emerged from a shack and discharged a round at the Police, before running into the nearby bushes. The Police then returned fire.
As they got closer to the shack, they observed two men and a woman lying on the floor with gunshot injuries. The area was reportedly combed in search of the fourth person seen, but there were no signs of him. Police also confirmed that a sawn-off double-barrel shotgun was found at the scene.
Lyte is now the only one of the four who remains on the run. (G9)