Caribbean Financial Action Task Force
…as SOCU called out for lack of convictions
With Guyana's anti-money laundering evaluation before the Caribbean Financial Action Task Force (CFATF) fast approaching, Attorney General Basil Williams has admitted that more needs to be done in terms of existing legislation.
Williams made this admission on Monday during a seminar at the Bank of Guyana that focused on preparations for Guyana's mutual evaluation. According to the Attorney General, the seminar was an important opportunity to coordinate between sister agencies.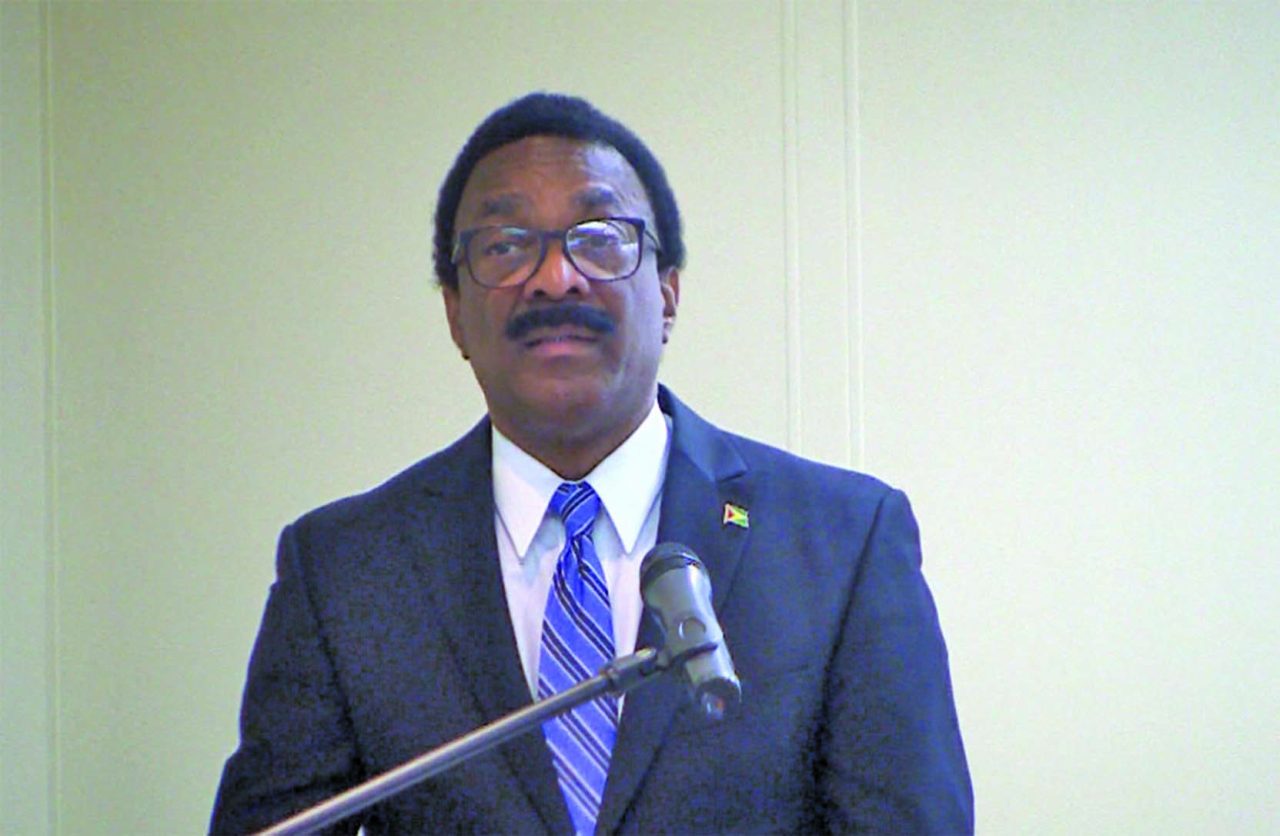 "All of us in this room, and those who are not here, must work together to ensure our efforts bear fruit. This is a tremendous opportunity to collaborate, to see our success at the mutual evaluations. I hope the session will enhance our knowledge of threats from money laundering and financing of terrorism and proliferation."
He noted that Guyana has passed legislation already but "we have to develop it more. Because it's one that they're going to be focusing on. By the time they reach us in 2023."
Proliferation financing is the act of providing funds or services for the manufacture and acquisition of equipment or chemicals that will be used in criminal enterprises. The term was included under proceeds of crime in the AML/CFT amendment bill of 2018.
Williams also pointed out that the Special Organised Crime Unit (SOCU) has a special role to play in this and he queried whether new SOCU Head Althea Padmore, was in attendance. According to Williams, an invitation was extended to Padmore to attend the seminar.
SOCU's ineffectiveness
"Our focus must be on effective implementation… is SOCU here? And is the new Head of SOCU here? She was invited and she ought to have been here too. Because… and it's unfortunate, they looked at them to determine effectiveness. And if you don't have prosecutions and convictions, you're nowhere. And the effort now to restructure SOCU, we hope to see more progress in that."
Guyana is slated to be evaluated in 2022 by the Caribbean Financial Action Task Force and FATF. It will be the fourth round of evaluations, with Guyana having been removed from the global watch list in 2016.
The state of SOCU, Guyana's main money-laundering investigation arm, has been a source of concern however since information came to light that a probe into the unit being conducted by the Guyana Police Force (GPF) had unearthed irregularities that included falsified records and missing documents.
According to reports, there was even a case of an official who alleged that his signature was forged. In addition, there are reports of listed expenditure being concocted and receipts being backdated.
In the fallout from this case, then Head of SOCU, Assistant Commissioner Sydney James was forced to proceed on administrative leave while investigations were carried out. Padmore consequently took over.
While James' contract has not ended, Public Security Minister Khemraj Ramjattan said that James would not be coming back. However, James' absence has done little to help secure convictions for the beleaguered agency.
Citing the failure of SOCU Special Prosecutor Lawrence Harris to prove his case, Senior Magistrate Leron Daly dismissed a fraud charge brought by the unit against three former officials of the Guyana Rice Development Board (GRDB) last month.
Those freed of the charges were former General Manager of the Guyana Rice Development Board (GRDB) Jagnarine Singh; former Permanent Secretary of the Ministry of Amerindian Affairs and PPP/C Member of Parliament, Nigel Dharamlall; and the Deputy Permanent Secretary of Finance in the Ministry of Agriculture, Prema Roopnarine.
The charge alleged that in 2011, while being Directors at the GRDB, with intent to defraud, they omitted to enter some $52 million in the GRDB ledger. The parliamentary Opposition has long maintained that these charges were politically instigated by SOCU.