Guyana's Vice President, Bharrat Jagdeo, on Tuesday participated in the signing of several agreements intended to further cement relations with Ghana.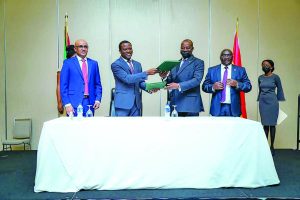 The three agreements signed include a Framework Agreement on Cooperation between the Government of the Co-operative Republic of Guyana and Government of the Republic of Ghana; a Memorandum of Understanding between the Ministry of Natural Resources of the Cooperative Republic of Guyana and the Petroleum Commission, Ghana, on Cooperation in the Petroleum Sector of the Cooperative Republic of Guyana; and a Memorandum of Understanding on Mutual Cooperation In Investment Promotion Between Guyana Office For Investment and Ghana Investment Promotion Centre.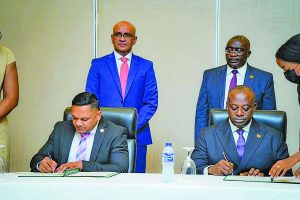 This activity culminated a four-day visit by the Ghanaian Vice President Dr Mahamudu Bawumia and his delegation.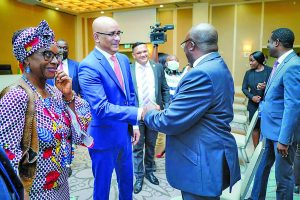 On Monday, President Ali and members of his Cabinet met with the Ghanian delegation during which he stated the importance of moving beyond just growing individual businesses in either country, to the point where the private sectors of both countries can come together and pursue opportunities on the global market.
He noted that the private sector in any country is the engine of growth, adding that red tape and bureaucracy will be removed from the process of reaching business opportunities between the two countries.
"There is no need for interlocutors. This is your opportunity in the two private sectors to have direct, meaningful engagement and advancement of the opportunities you seek to pursue. And it is our intention, that you would understand how important this is. And that you would make good use of this opportunity that exists on both sides."
"It is not only about the opportunity that exists in Guyana. Or the opportunities in Ghana. It is how do we combine the twin power of the opportunities to become a dynamic and major player. And this is the level of engagement and thinking we want at the private sector."
Some examples Ali cited were mining, agriculture and food security and transportation. Meanwhile, Dr Bawumia endorsed the President's sentiments when he went to the podium and further said that the enabling environment in both countries now exists for such increased ties.
The two countries officially established diplomatic relations on May 14, 1979. Ghana has already offered to provide support to Guyana in the area of oil and gas.