Following its official launch two weeks ago, the Guyana Badminton Association's "Air Badminton – The New Outdoor Game" Programme has reached out to its first school.
The GBA donated a number of rackets, shuttlecocks, and nets to the St Rose's High School, Georgetown, to help in the running of this programme.
"I am pleased that St Rose's Sports Coordinator, Mr Alque Stanley came on board with helping us to promote the Air Badminton and also help the students of St Rose's High School to have an interest in badminton," GBA President Gokarn Ramdhani stated in a release on Monday.
"We will continue to be with them through the process of getting the players to a better level and to introduce the Air Badminton to a higher level."
Ramdhani also expressed the intent to get more schools involved in the new version of the sport and in doing so, abiding by the COVID-19 guidelines.
St Rose's Sports Coordinator Stanley expressed his gratitude to the GBA, describing the donation as a light in the darkness, in preparation for the Physical Education aspect of the Caribbean Secondary Education Certificate (CSEC) examinations.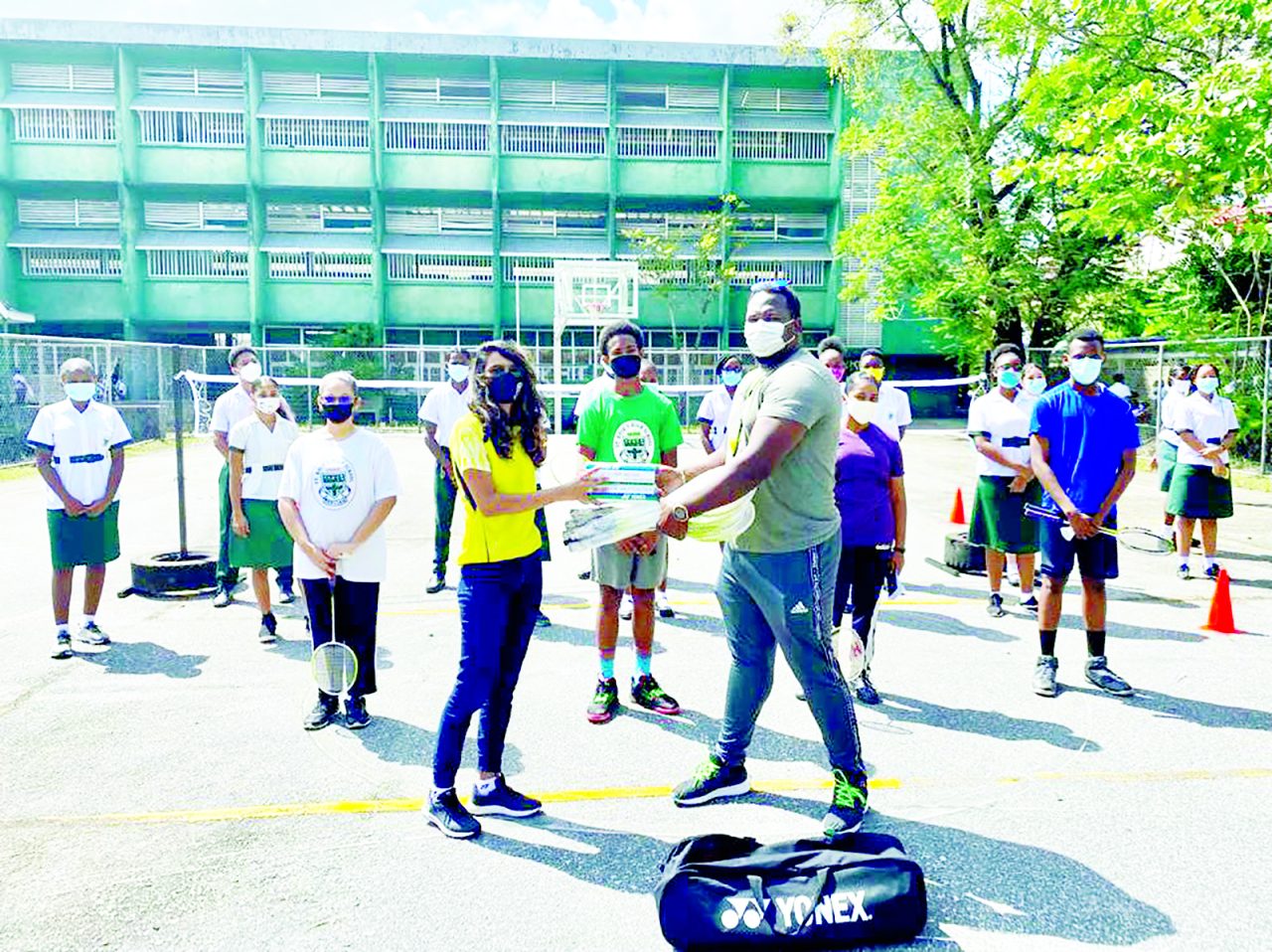 "On behalf of St Rose's High School and the students, we'd like to thank you for your generous donation, which came in a timely manner," Stanley said.
He added, "Because the COVID-19 has restricted us to playing indoors, Air Badminton has come as a light in the darkness. And it also helps some CSEC students that are writing exams this year, so they can continue playing badminton."
The donation was made in the school's compound, after which the students were given instruction on how to play the sport.
The project was initially launched at the National Park, Georgetown on December 29.
The GBA President shared at that event, "We are very happy to have gotten this project off especially during this pandemic situation which caused our sport to be on hold since April 2020. This new outdoor game was implemented by the World Bad-minton  Federation and it's a great way to keep the players active and motivated until we can restart our normal training."
"Air Badminton – The New Outdoor Game" is here:
The Badminton World Federation (BWF) and HSBC jointly launched the new outdoor game, Air Badminton, and a new outdoor shuttlecock, the Air Shuttle, at a global launch ceremony outside the Tianhe Gymnasium in Guangzhou, China. Air Badminton is an ambitious new development project in partnership with HSBC, BWF's Global Development Partner, designed to create opportunities for people of all ages and ability to play badminton on hard, grass and sand surfaces in parks, gardens, streets, playgrounds and beaches around the world. The project has been five years in the making, starting with a vision to develop a new outdoor shuttlecock with increased durability, stability, and wind resistance to allow people to have a more positive experience of badminton outdoors. BWF President and Atlanta 1996 Olympic Games men's singles gold medallist Poul-Erik Høyer officiated at the launch and said Air Badminton provides a pathway for increased global participation in the sport, while opening up doors for a new, highly attractive form of competitive badminton.
"This is a momentous occasion for badminton. Strategically, Air Badminton will allow to fulfil our overall objective of putting a badminton racket in the hands of as many people as possible," he said. "Given that most people's first experience with badminton comes in an outdoor environment, we are now making it easier for everyone to access the sport through a new outdoor game and new shuttlecock, the Air Shuttle.
"In the future, we see Air Badminton as an exciting, new, energetic version of the sport. Overall, the aim is to inspire more people to play more badminton in more places."