…want $250,000 announced for severed workers
Field workers attached to the Albion Sugar Estate on the Corentyne, Region Six (East Berbice-Corentyne) on Wednesday staged a protest exercise demanding that Government include them in the group to be beneficiaries of the $250,000 compensation for workers severed from the industry by the previous administration in 2016.

Vice President Dr Bharrat Jagdeo, while in Berbice last week, met with severed sugar workers at Skeldon and Rose Hall, East Canje.
"By January or so, each sugar worker who was severed would also get another $250,000 on their severance. That would be between $1.7 and $1.8 billion, because we have 7,000 workers who were severed who will all get that. If this is crucial, it is important that we fix this. It was a great injustice, and many people stood out there and remained silent." Jagdeo said while at Skeldon.
On Wednesday, the workers lined the entrance to the Albion Estate with their cutlasses held in the air, and then placed them on the ground, saying that they were not going back to the field until their demands are met.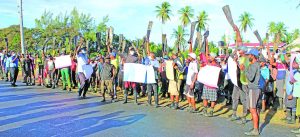 They argue that some of the severed workers were rehired by Guyana Sugar Corporation (GuySuCo) and so are now on an equal playing field with them. They also claim that most of the workers who were severed from the Estate have been able to find themselves jobs in other industries.
Workers' representative Hernia Park explained that the $250,000 was only one of their demands.
"What we are saying is that if that goes to one section of sugar workers, it should be for everybody else. One of our demands is for the Vice President to come and meet the workers and make a commitment, or he can get someone to meet with us and deal with the issue at hand. If nobody wants to come to us, they can just make an announcement," Parks said.
Another demand of the striking workers is that they receive a flood relief package. They say that farmers are currently receiving flood relief packages from Government, and during the same flood, they were unable to work for six weeks, hence they should be entitled to flood relief also, as workers in the agriculture sector.
Omadat Seecharran, who worked at Rose Hall Estate and was transferred to Albion when that estate was closed, has said that none of the Albion workers received any relief despite the cultivation areas being under floodwaters for 65 days.
"No field worker had any work for six weeks, so definitely we were affected, and no one paid any attention to us."
Over 1500 workers are on strike, forcing grinding at the Estate to come to a halt.
With 1752 workers on roll, 88.7 percent, or 1554, are on strike. Among the 158 workers on strike are 14 cane harvesters.
The strike is not being supported by the Guyana Agricultural and General Workers Union (GAWU), which represents the field workers.
This publication understands that GAWU is currently in discussion with the Government over several workers' concerns. (G4)