The upcoming rainy season has left much worry among residents of Alexander Village and West Ruimveldt, Georgetown who are concerned as to whether their homes will be flooded for the holidays as canals remain overgrown with bushes and aquatic shrubbery.
During a visit to the area on Wednesday, villagers irritably lamented the fact that the trench which borders Hunter Street and Alexander Village has not been cleared in several months. Consequently, it is very difficult for water to drain from the lands and exit the area.
Shanaz Ally, who resides in Alexander Village, related that while the seasonal flooding is the main issue, the community is also at risk from dangerous organisms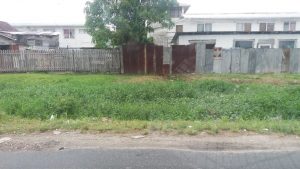 which reside in the waters.
"We've had several calls being made about snakes and other animals living in the water because City Hall is not making any effort to clean the trench. There is so much bush growing in the trench that it comes on the road," she stated.
Her concerns were shared by a neighbour who also commented that the Mayor and City Council has made no efforts to remedy the situation.
"We called them a few times to look at it because it is not nice to look at and then the drainage is a problem but nobody ever does anything or even send someone to clear it. I think once last year I saw somebody come and that was it," the aggravated man said.
The West Ruimveldt canal is also overgrown with vegetation and as such, cannot effectively irrigate the lands, causing severe flooding disasters in the rainy season. In the past, calls were made before this season approached since many were aware of the threats posed by the clogged canal.
Guyana Times understands that the canal has been neglected for some time now and as such, it is clogged with not just the vegetation but also silt and debris.
"What happen is that all this bush and tree grow up in the trench and nobody really clear it out from the start so that's why that's happening now. The water don't have nowhere to go and the place looking like a jungle," one of the locals was quoted as saying during a previous encounter.
Floyd King Stuart, a usual victim of the flooding, had noted at that time that he has been residing in the area for over 20 years and the flooding situation has only worsened with time. In some instances, the water rose by more than two feet since the Front Road canal is heavily silted and overgrown with vegetation.
According to residents, the vegetation needs to be cleared after which the silt can be removed to provide long-term results.
Meanwhile, over at Laing Avenue, persons were having irrigation issues due to the presence of garbage in the waterway.