Presidential Candidate for the People's Progressive Party/Civic (PPP/C) Irfaan Ali speaking at various venues in New York on Sunday emphasised the need for members of the Guyanese Diaspora to support the Party's ongoing struggle to protect Guyana's democracy and return the country to a path of prosperity.
On this note, Ali invited the Diaspora to contribute to the PPP/C manifesto which is open for contributions from the public. He noted that a public forum will be held in February to engage civil society and other Guyanese to make their input into the manifesto.
"I will ensure our government plan is reflective of the needs and aspirations of all our people," he assured.
Ali also said his visits further underscored his party's commitment to stay connected with Guyanese Diaspora. To this end, he thanked the Diaspora for opening up their homes, businesses and places of worship – the most sacred – to him and the party.
However, the presidential hopeful lauded the Diaspora for their generous and continued humanitarian services towards their fellow Guyanese.
"It is your work at the humanitarian level, that give the people back home much needed relief and hope; and we at the political level must build on this hope so that people don't see hopelessness as the outcome," he stated.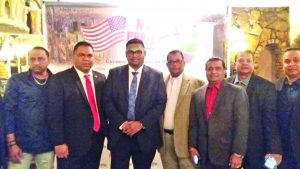 For its part, the PPP's Presidential Candidate said his party envisions to create a society that is inclusive and provides opportunities for all people no matter their differences. He reiterated promises to reverse the A Partnership for National Unity/Alliance For Change coalition's neglect of traditional sectors including agriculture, gold mining, forestry, bauxite and tourism.
Furthermore, Ali noted that among the plans the PPP has for the oil and gas sector, should it return to office, includes ensuring that the local content policy and legislations relating to the emerging sector cater for all Guyanese.
Guyana is now home to the world's biggest new deep water oil discovery and with principle explorer, ExxonMobil, pushing for the development of the oil reserves; production is scheduled to begin in early 2020. In fact only in December, the US oil giant announced its 10th discovery, reinforcing the country's potential to be able to produce more than 750,000 barrels of oil daily by 2025.
Since the discovery of first oil back in 2015, local stakeholders and stakeholder bodies have been calling for the necessary frameworks and infrastructure be put in place for the emerging sector. This includes a Local Content Policy, which is a guide seeking to protect local companies from being bypassed for contracts and services with foreign companies and workers being favoured.
Back in November, Head of the Government's Energy Department, Dr Mark Bynoe had assured that a second draft policy would be finalised before the end of 2018.