A triangular love affair turned deadly on Wednesday with the discovery of 53-year-old Rohan Khanai Persaud's body, which was found in Samatta Point Grove, East Bank Demerara (EBD). Police preliminary reports stated that the handyman was killed by his friend, who was allegedly having an affair with Persaud's reputed wife. Guyana Times was told that the discovery was made at about 06:30h by residents who saw the body at the corner of the road.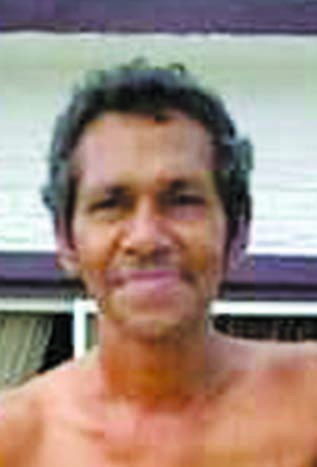 According to Police reports, he was found with a gash on his abdomen. This newspaper understands that at the time of the discovery, the man's intestines were protruding through the wound. His T-shirt was also rolled up around his neck while his back bore apparent marks of violence. Reports reaching this publication also stated that the suspect of Grove Housing Scheme moved into the now dead man's home after he had misunderstandings with his brothers. However, while there, he reportedly started a relationship with Persaud's wife. According to a source close to the family, this led to numerous arguments between Persaud and his reputed wife, known as "Julie Mango". She subsequently moved out of the home. However, Persaud and the suspect along with other friends were in Grove at about 01:00h when another argument ensued between the duo. Persaud reportedly again accused the suspect of having sexual relations with his wife and a scuffle ensued.
It was at this time that the suspect reportedly used a stingray (fish) bone and dealt Persaud one stab wound to his abdomen. The now dead man fell to the ground and was reportedly left for dead while the suspect and his friends fled the scene. Three men were taken into custody while Police continue the hunt to nab another suspect.
Persaud's body is presently at the Lyken's Funeral Home awaiting a post-mortem examination.