An Amerindian Heritage Mural was commissioned at the Lethem Magistrate's Court on Monday in commemoration of Amerindian Heritage Month 2022.
The mural, an initiative of the acting Chancellor of the Judiciary, Justice Yonette Cummings-Edwards, has been commissioned by the Registrar of the Supreme Court of Judicature, Sueanna Lovell.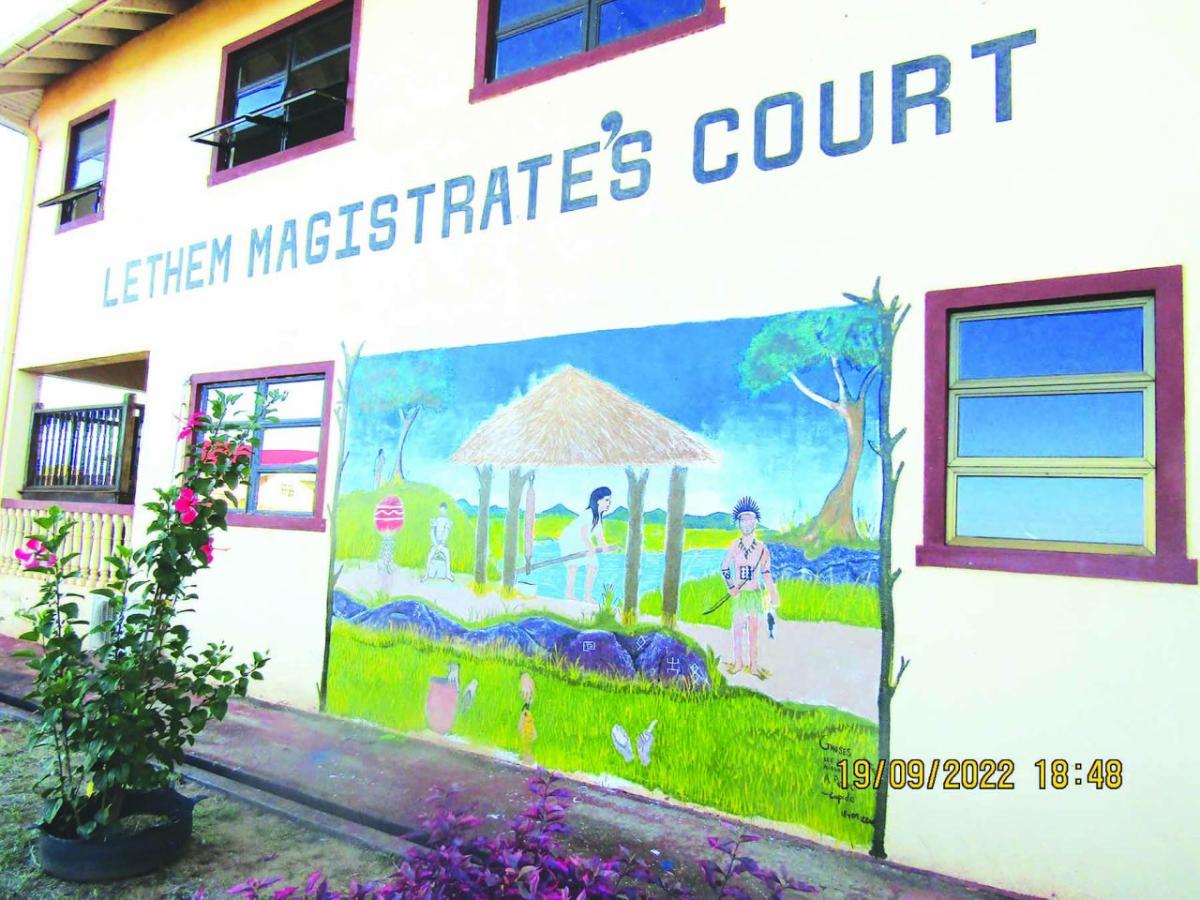 The painting is an original piece that was sketched and painted by four talented grade 11 students of the St Ignatius Secondary School under the guidance and assistance of two art teachers of the same school. The final product is a compilation of the drawings of the four students.
The students who drew the mural were Alissa Roger, Geveron Moses, Aiude Pedro, and Lee Michael. These students were supervised by Romario Cupido and Devon Rodrigues.
Each part of the mural is symbolic of Amerindian Heritage and culture. From their interpretations, each student has paid tribute to the Indigenous people's way of life through their art.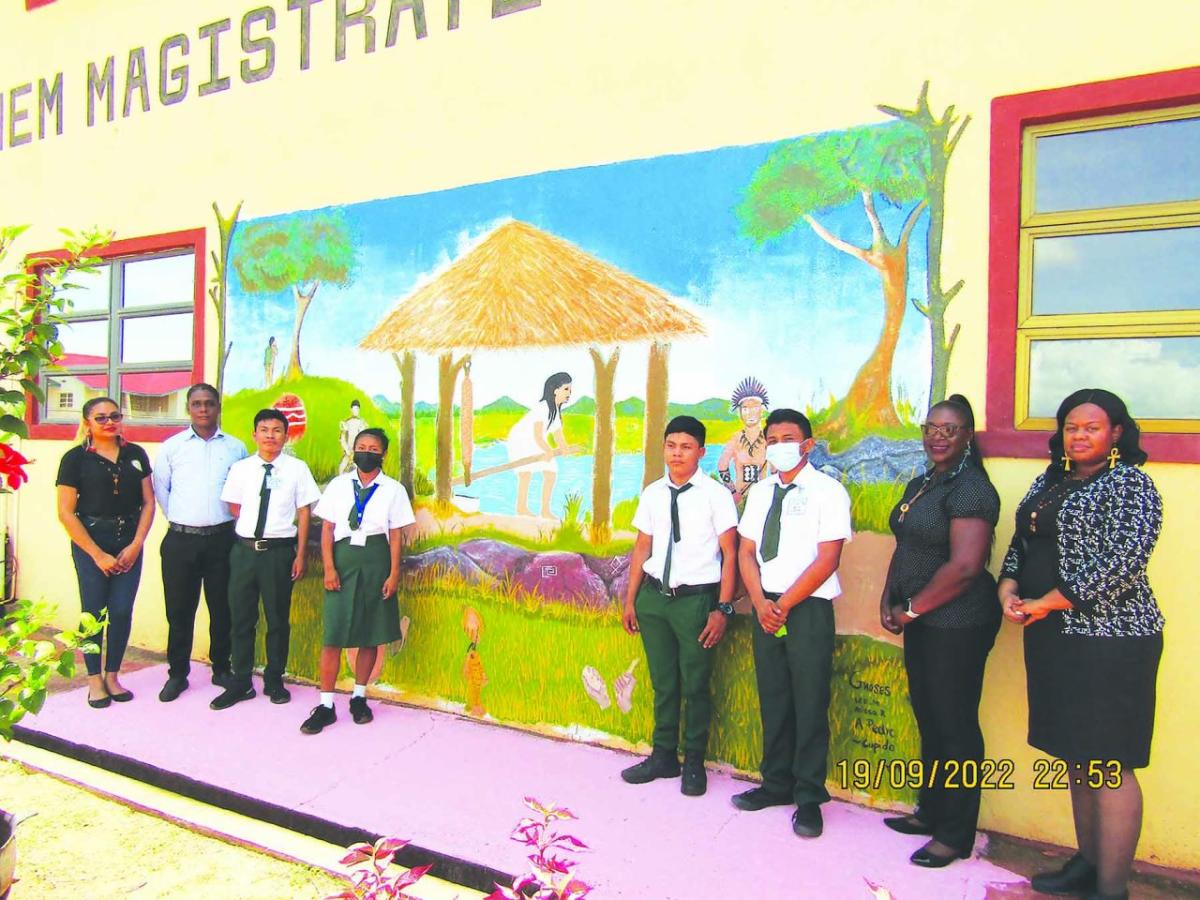 The way of life of the Indigenous people demonstrated in the mural are:
(a) The benab, located at the centre of the mural, signifies unity within the Indigenous community. It functions as a gathering/ meeting place; somewhere for persons to create their craft items, complete chores, and live.
(b) The trees represent Amerindian lands and vegetation.
(c) The man standing with the arrow and bow and a fish in his hand symbolises the head of the home. He provides for the family by hunting and fishing for food. This represents the way of life of the Indigenous people, who are very self-sufficient.
(d) The woman under the benab represents the mother figure of the home. She prepares the meals from what was brought home by the hunter. As seen in the painting, she is squeezing cassava for the preparation of Tuma Pot, a delicacy in the Amerindian communities. Women in the Indigenous communities also assist in gathering food. This is demonstrated by the female under the tree with the bag pack.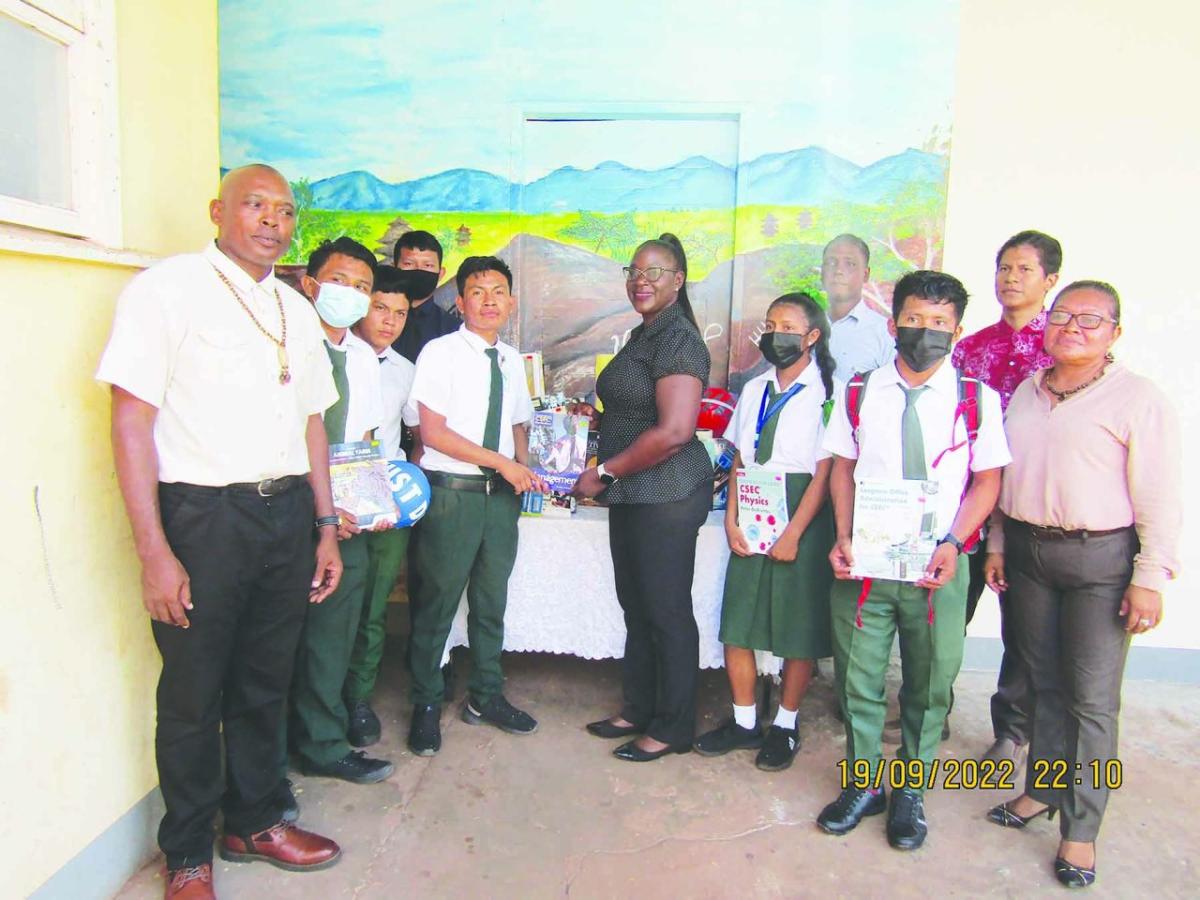 (e) The man sitting is engaged in craft-making. This represents the Amerindians' craft-making skills. They are skilled in making various handmade craft items ranging from earrings, baskets, clothing, and much more.
(f) The image next to the man making craft is referred to as a Totem Pole. The Totem Pole is made from feathers and beads gathered from around the environment.
The lines on the Totem Pole represent the Takutu River. The villagers use the Totem Pole to create music, they would shake the Totem Pole while people sing. This is often done when villagers gather to tell stories.
(g) The rocks at the bottom showcase some of the symbols used by Indigenous people. Historically, they used symbols carved unto rocks to communicate.
(h) At the bottom, their talents are summed up. The pot represents their pottery-making skills, the fish on a hook represents their hunting and fishing skills, and the hands with the knife represent their craft-making skills.
To show appreciation for the great work done by the art students and teachers of the St Ignatius Secondary School, and to demonstrate the Supreme Court's social responsibility to the community that is home to a court of law, the Supreme Court has donated a quantity of textbooks, art supplies and sports gear for the benefit of the students of that school.
The donation was made by Ms Lovell on behalf of the Chancellor of the Judiciary. Lovell has encouraged the students to keep up their good work, and wished them well in their upcoming examinations. (G1)