BCB/Ivan Madray 100-Ball Cricket
By Brandon Corlette
The star-studded Rose Hall Town Gizmos and Gadgets Team defeated the Tucber Park Cricket Club by five wickets in a semi-final match of the BCB/Ivan Madray 100-Ball First Division Cricket tournament played at the Albion Community Centre on Sunday last.
Each team had in its lineup one member of the triumphant Guyana Jaguars; Romario Shepherd was playing for the Tucber Park Cricket Club, while Clinton Pestano was playing for the Gizmos and Gadgets Cricket Team.
Because of overnight showers, venue for the game was changed from the Port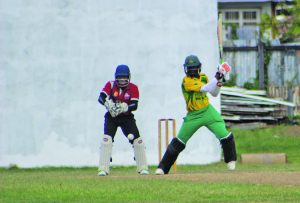 Mourant ground to the Albion ground as exciting cricket continued over the weekend.
Under beautiful sunshine, the Romario Shepherd-led Tucber Park team took first strike, their opening batsmen
Malcolm Mickle and Steve Deonarine taking no chances in the power play segment. Cautious batting, however, led to the loss of Mickle's wicket, the Berbice Under-19 batsman being dismissed by left arm-spinner Keith Simpson for 09.
With the score on 13-1, former Berbice youth player Clifton Lindie partnered Deonarine, and the pair set about to secure their wickets. Eight runs later, Deonarine (12) was removed by Junior Sinclair with a ball that kept low, hitting the stumps. Lindie followed soon after, reducing Tucber Park to 40-3.
Wicket-keeper/batsman Hakeem Hinds and former National youth player Anthony D' Andrade joined forces, but Tucber Park wickets continued to fall at regular intervals. Hinds (18), D'Andrade (04) and Devon Clements (03) fell cheaply as Tucber Park found themselves precariously hanging on at 60-6 at one stage.
With the 100-run mark seemingly a million miles away, Romario Shepherd took to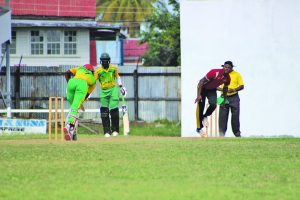 the crease, and his intention was obvious from the get-go. Shepherd hit a quick-fire 22, which included two huge maximums, before he was removed by his Guyana Jaguars team mate Clinton Pestano.
Nial Smith (09), Garfield Benjamin (03*) and Leon Swamy (01*) eventually saw Tucber Park to 100-8 when their 100 balls expired.
The economical and effective off-spinner Junior Sinclair finished with mesmerising bowling figures of 3-9 in three overs. Eon Hooper grabbed 2-21 in 4.2 overs; and Kevin Sinclair, Keith Simpson and Clinton Pestano picked up one wicket each for Rose Hall Town.
In pursuit of Tucber Park's 100 scored in 100 balls, the Rose Hall Town batsmen were required to employ sensible batting, picking up singles and double runs. But when off-spinner Devon Clements removed the talented Kevin Sinclair for a golden duck, Tucber Park had the perfect start.
For a brief moment, Junior Sinclair and Kevlon Anderson repaired the early damage — until Junior Sinclair was trapped in front by the veteran Clements. Thus Anderson, who recently returned from the West Indies Under-19 Training Camp, was once again thrust into the role of Mr Dependable.
Whereas Vidal Crandon and Jason Sinclair were run out for 02 and 28 respectively, Kevlon Anderson was composed, batting with the authority of a Shepherd.
With the score on 71-4, Tucber Park wasted the brilliant start they had obtained, the game changing direction when a Leon Swamy over was hit every which way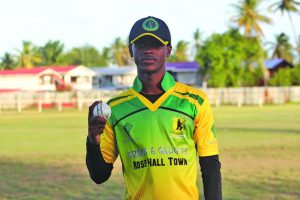 for 20 runs. Brutal in his stroke play, Pestano hit Swamy for half a dozen over the long-on ropes, and straight down the ground with beautiful timing. The over seemed a long one for Swamy when Anderson pummeled one through midwicket for four.
By the time the brilliant Romario Shepherd had removed Kevlon Anderson with a great yoker that shattered his stumps, the damage was already done: batting with an authority reminiscent of the awesome Indian batsman Virat Kohli, Anderson had effectively milked the Tucber Park bowling by scoring 22 singles, two three-shots and one two-shot in compiling a match-winning 42 that included three boundaries.
Pestano (09*) and Hooper (01*) eventually saw their team to a compelling 5-wicket victory.
Devon Clements was the best Tucber Park bowler, with 2-18 in four overs, while Shepherd captured one wicket.
The overwhelming favourites, Rose Hall Town Gizmos and Gadgets, are in yet another final, and they will be seeking to conclude 2018 on a winning note when they clash with Young Warriors Cricket Club in the final of the Ivan Madray 100-Ball, scheduled to be played at Port Mourant.