The Neighbourhood Democratic Council (NDC) for the Annandale/Riverstown area, Region Two (Pomeroon-Supenaam), has commenced a clean-up activity in the community of Red Village, as it focuses on creating a safer surrounding and addressing concerns raised by residents relating to placing effective security measures in the area.
Red Village a small community located in the deep Onderneeming, Sand Pit area, about three miles from the public road and was visited by Regional Vice Chairman, Ms Nandranie Coonjah and the NDC's Councillor, Marva Chappel, who in a successful attempt brought attention to the many problems and circumstances faced by the community such as being robbed when using the roadway.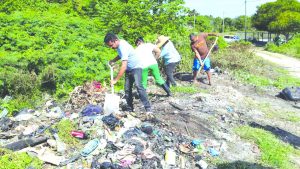 Residents also complained of an unfinished health post, which was left incomplete since 2016 due to issues encountered with the contractor. According to residents, the incomplete building can be a hub or safe haven for criminal elements.
The Regional Vice Chairman, following a community visit, arranged a team which consisted of herself along with Chairman of the NDC, Charran Sarabjeet, councillors, villagers and sanitation workers attached to the region in a clean-up effort to clear the road shoulders of garbage and other unwanted materials leading up to the village.
The villagers, motor vehicles owners and other persons commended the work undertaken by the NDC, as the NDC team is advising persons to desist from polluting the roadways since it poses hazards to road users.