…days after rehabilitation works commence
Even though residents were reassured that the dilapidated stelling at Leguan, Essequibo River, would be upgraded to its required standard, yet another section of the stelling has collapsed, inconveniencing residents in the area.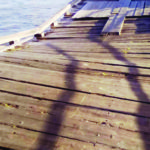 Guyana Times understands that part of the structure collapsed at about 15:00h on Monday.
When contacted, the Public Infrastructure Ministry confirmed that it had received reports of the destruction while noting that a statement on the issue will be released today.
A resident in the area, Hans Buer, briefly told this publication that the contractors were at the scene assessing the damage since some rehabilitation works have only begun sometime last week.
"The contractor is already on the stelling because they started last week with some rehabilitation of the stelling", he added.
Just last month, Minister David Patterson assured commuters that works on the deteriorating structure would commence since residents have reported collapses in other sections.
Back in September 2018, the Government revealed that a contract, to the tune of $413.2 million, was awarded to Maraj Contracting Services.
Construction work was slated to commence this year since the stelling is the main entry and exit for persons living on the Island.
The project came on the heels of outcries from residents on the island in the Essequibo River on the state of the facility.
This newspaper had previously visited the stelling, where it was observed that the timber planks supporting the stelling have rotted, making residents fearful since heavy vehicles traverse the stelling.
In addition, the decking was observed to be loose and uneven, with rails having no support at certain sections on the ramp.