One year after a full length movie has been produced in Antigua, the filmmaker has turned his attention to Guyana, with the hope of promoting his creation, "Cry Cry", at various forums throughout the country.
The film's director, New York-based Antiguan medical doctor Noel Howell, has arrived in Guyana carrying his most recent production, set to be screened at high schools and other institutions within the coming weeks.
Dr Howell returns to his homeland on a yearly basis, to exercise his love for the arts by hosting seminars to facilitate the creation of short films through the Antiguan Film Academy.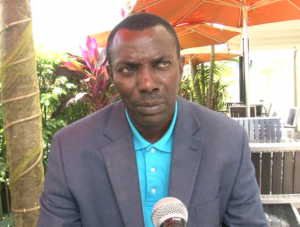 In 2016, his team went above and beyond its annual creations by producing this full length feature film, "Cry Cry". Reportedly written by 10-year-old Destiny Simon, and directed by Dr Noel Howell, "Cry Cry" features Guyanese actress Vanessa Howell alongside a number of actors hailing from the Antiguan Film Academy. According to the trailer, "It is all about politics, education, the law, and what happens when you follow the wrong company…"
During an interview following his arrival in Guyana, Dr Howell explained the basis of the movie, highlighting xenophobia as the main underlying theme.
He outlined, "Whenever we migrate, we get blamed for everything that goes wrong in the community. So, in this particular story, we are following some characters who migrated to Antigua, and the stereotype that they have to deal with."
This producer has posited that this theme is particularly relevant, given the many talks about immigration, especially on the American news wave.
However, Dr Howell has noted that prejudice against immigrants exists even in the Caribbean, and "Cry Cry" seeks to address the discrimination directed at foreigners within the region.
He has also made public his intention to impact Guyanese audiences through the screening of this movie. He has said: "Guyanese, especially the young people, will benefit a lot from this movie." Moreover, Dr Howell pointed out that in addition to inspiring young Guyanese to pursue the arts, the screening of 'Cry Cry' throughout the country will make way for similar projects to be executed in Guyana.
Accordingly, this Antiguan film is set to be shown at a number of high schools across Guyana, targeting the youth, while special screenings will be hosted for the general public. Screening of this Caribbean production in Guyana is as a result of a partnership between the Antiguan Film Academy and the Ministry of Education.