…left sector with over 150 medications out of stock
A heated parliamentary debate was set in motion on Thursday as Health Minister Dr Frank Anthony slammed the former APNU/AFC coalition Government for wasteful spending – which had caused billions of taxpayers' dollars to be expended in vain.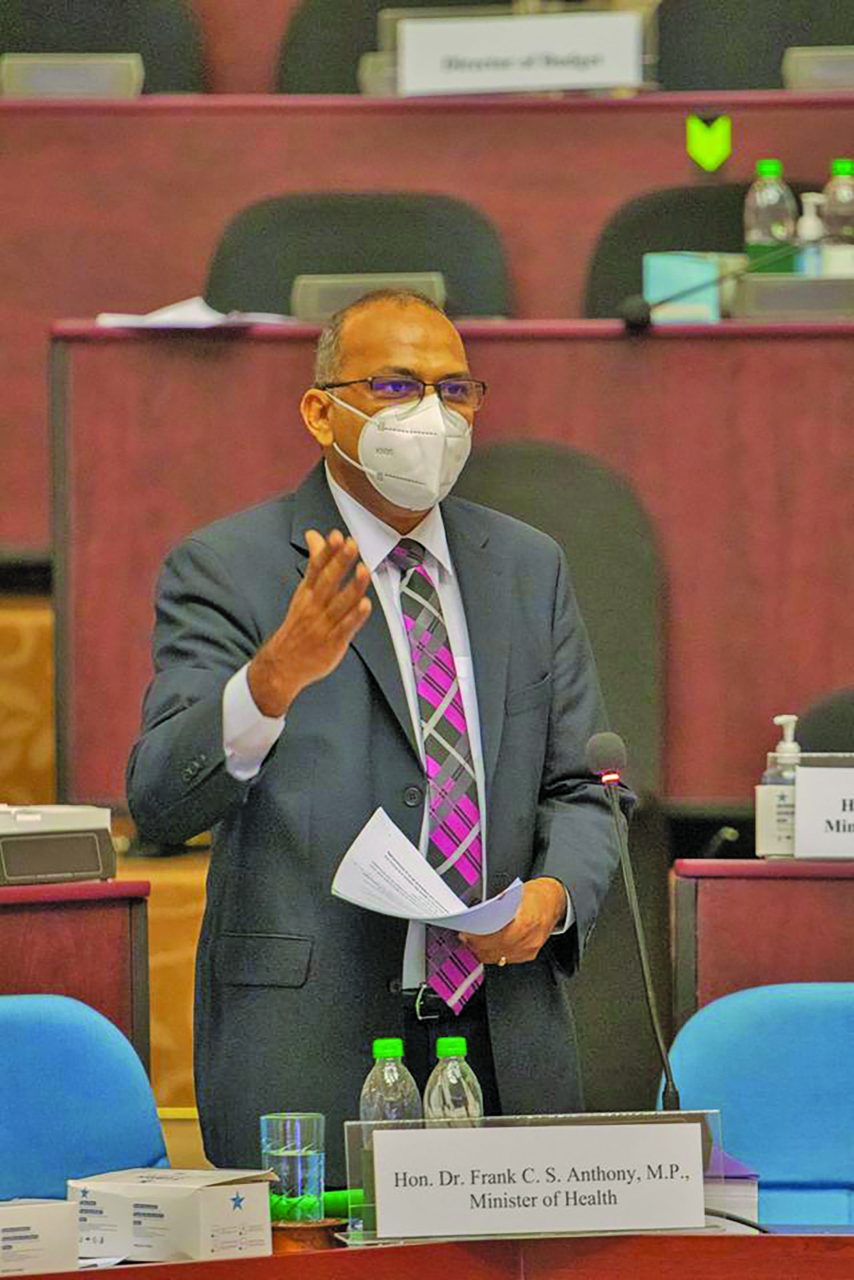 During his budget presentation, Dr Anthony disclosed some of the shocking revelations and discoveries made when he assumed office last month, positing that the sector was "emblematic of corruption" under the former Government.
This primarily surrounded the purchasing of close to $1 billion in expired pharmaceuticals and medical supplies, which cannot now be used to treat patients.
"Another travesty is that, in the midst of shortages and stockouts, is that drugs that have been expired and sitting at the bond. Just an example: from January to August of this year, about 1,663,032 items, valued at $732 million, have expired. Another $200 million is scheduled to expire by the end of December, which would mean that close to $1 billion would've been wasted on expired medicines and supplies," the Minister informed the National Assembly.
To exacerbate the situation, Government now has to spend millions for the Materials Management Unit of the Ministry to safely dispose of the materials.
He added, "As if this was not bad enough, to get rid of these expired drugs, it would cost the MMU at least another $3 million to move it and take it to the dumpsite."
As at August, some 60 per cent of the MMU's special capacity was filled with expired medicines and medical supplies, or with items deemed unfit for human use. Because the facility was "filled to the brim" with these useless items, staffers were unable to do efficient stocktaking and locate the needed medicines.
Drug shortages
As he continued to zero in on the health sector, Minister Anthony quoted former subject Minister Volda Lawrence back in 2018, when she claimed that the "perennial cry of drug shortages will no longer reverberate across the country'."
Fast forward to this year, he noted, the People's Progressive Party entered office to find shortages of some 156 key medicines and other supplies – which were on the zero-stock level.
"Well, imagine my utter disbelief when a quick survey of the Materials Management Unit showed that on 5th August, there were 206 items of medicine and medical supplies that were out of stock. There were 156 items of drugs with zero stock level."
The health official asserted that this meant that the APNU/AFC Government did not buy medicines for people with high blood pressure, heart complications, diabetes, Human Immunodeficiency Virus (HIV), Tuberculosis (TB) and other widespread illnesses. On the other hand, common supplies such as X-ray films were lacking, all of which have to be procured.
Dr Anthony shared, "Right now, as I speak, there is a shortage of antibiotics in the system, thanks to the APNU/AFC Government. And Mr Speaker, in addition to all of this, these 156 medicines that are at zero stocks, we have right now 50 types of medical supplies that are at zero level. Things like X-ray films, oxygen nebulizers, bandages, thermometers, insulin syringes, just to name a few, all of which we now have to go and procure on an emergency basis."
To immediately rescue this situation, Government had to allocate $3.2 billion to make the emergency purchase of drugs and medical supplies. The tenders for procurement were opened on Thursday. A sizeable allocation was also made to ensure that there are adequate stocks, especially in light of the COVID-19 pandemic.
"To further stabilise the situation, the PPP/C Government has put into this budget $14.3 billion which would ensure that we have adequate stocks of medicine and medical supplies," it was revealed.
While former Junior Health Minister Dr Karen Cummings had boasted about the immunization programme under the APNU/AFC tenure, Dr Anthony in response slammed the coalition administration for leaving supplies for two years at the wharf, which amounted to millions of dollars in demurrage fees.
According to him, it took just one day for the supplies to be retrieved, and they can now be used for the programme.
"What is mind-boggling is that, if this member cares so much about the immunisation programme that was being run by the Ministry of Public Health, then why is it that a container that was filled with things for the immunisation programme was sitting on the wharf for 24 months? Why is it sitting there? Apart from sitting there, it cost the people of this country $4.1 million in demurrage charges and counting. It took us 36 hours to talk to the relevant people and get that container off the wharf.
"When we come here and pontificate about these various programmes, we must come with our facts," he noted.
Subpar facilities
Meanwhile, the Minister also highlighted the practice of using subpar facilities to store these supplies – which include the Sussex Street Bond, Princess Street Bond, and Ocean View Hotel. He noted that this raised some concerns, especially since rodents were found where these drugs were being stored at the hotel.
"It is a known fact that the previous administration spent hundreds of millions to rent subpar facilities to store medicines and medical supplies – places such as the Sussex Street Bond, Princess Street Bond, Ocean View Hotel…When they went in to do the verification, what did they find? Cobwebs, cockroaches, rodents and other pests among the drugs that were being stored at Ocean View."
He added, "The story of stockouts, medicine shortages, expiration of medicines and medical supplies, bond rentals tell a story not just of incompetence, and not just a story of recklessness. It is a tale of heartlessness, indifference; it's a story that constitutes misconduct in public office." (G12)