The A Partnership for National Unity/Alliance For Change (APNU/AFC) held a rally on Burnham Court on Tuesday, where they promised to boycott the next sitting of Parliament while also calling for a clean voters' list before the next elections and cash transfers from the oil wealth.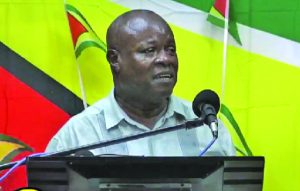 During the rally, speakers such as Professor David Hinds made the call for the Government to use a portion of the revenue from Guyana's oil earnings to directly transfer wealth to Guyanese, including those in perceived APNU strongholds.
Meanwhile, AFC Member of Parliament (MP) Juretha Fernandes in her contribution to the rally made a call for a clean voters' list before the next elections. And when Opposition Leader Aubrey Norton came on stage, he backed both of these calls, while repeating a call he has previously made for the removal of Guyana Elections Commission (GECOM) Chair, Retired Justice Claudette Singh.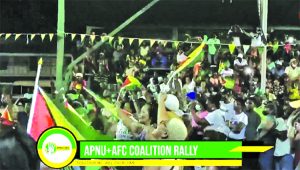 "We have to have a clean election list… every observer team that came here said we need a new list. We need a clean voters' list… as part of this clean list campaign, we have to make it clear that Claudette Singh must go," Norton told the crowd.
GECOM has already conducted a Continuous Registration Exercise in order to update the List of Electors and pave the way for the hosting of Local Government Elections (LGE). GECOM has said that this registration exercise is of crucial importance to first-time applicants. These are regarded as those persons who were 14 to 18 years old when they were registered during the 2019 House-to-House exercise.
GECOM is looking to have an updated voters' list in place by October, in order for the LGE to be held. The last time GECOM conducted Continuous Registration was in 2019, in preparation for the March 2020 General and Regional Elections.
More than $750 million has been set aside in Budget 2022 for the preparations to be undertaken by GECOM for the hosting of LGE this year. This money is part of an overall $4.1 billion allocation to GECOM in Budget 2022, and was examined and approved by the National Assembly during its consideration of the 2022 Budget Estimates.
On the economic side of things, Norton said that his party wants targeted cash transfers to every household, including those in the APNU/AFC stronghold.
"We need people centred development that put resources into small business and micro business, so more of our people can become business people," Norton said.
Boycott
Meanwhile, in the wake of the National Assembly's decision to suspend eight APNU/AFC Members of Parliament for their association with the infamous mace grab, Norton also promised that the Opposition will be boycotting the next parliamentary sitting on August 8.
"We have to be very clear. They have suspended eight of our Members of Parliament. They have a parliamentary session on Monday. Well, they will talk to themselves. They will speak to themselves," Norton said.
In his address, Norton claimed that the MPs were not afforded a hearing. Last month, the National Assembly adopted a report from the Parliamentary Committee of Privileges, which recommended the suspension of Opposition Chief Whip Christopher Jones, Ganesh Mahipaul, Sherod Duncan, Natasha Singh-Lewis, Annette Ferguson, Vinceroy Jordan, Tabitha Sarabo-Halley, and Maureen Philadelphia over their conduct in the House on December 29, 2021.
Chief Whip Jones, Mahipaul, Duncan and Singh-Lewis have been suspended for four consecutive sittings each over their attempts to disrupt the passage of the Natural Resource Fund (NRF) Bill and ignoring the authority of the Speaker on December 29, 2021.
MPs Ferguson and Jordan are suspended for six consecutive sittings over severe and egregious violations by removing the Parliamentary Mace from its rightful position, not only damaging the object, but also injuring and assaulting a staff of the Parliament Office.
Meanwhile, Sarabo-Halley, who entered the Communication Control Room of the Arthur Chung Conference Centre and destroyed several pieces of audio-visual equipment, is suspended for six sittings.
Additionally, Philadelphia is facing a suspension for six consecutive sittings for verbally assaulting a Parliament staff.