A new Member of Parliament (MP) was sworn in on Thursday, replacing Charrandas Persaud who voted in favour of the Opposition's No-confidence Motion against the coalition Government.
Barbara Patricia Pilgrim was selected by the larger partner in the coalition Government; the A Partnership for National Unity (APNU), to represent Region Six (East Berbice-Corentyne).
Pilgrim, who was asked how she feels having been entrusted to hold a seat in Parliament and how she hopes to use her new position, said she did not know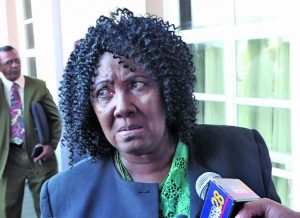 what to say at first.
However, she later told reporters at the sidelines of Parliament that she has always been an active member of the People's National Congress (PNC) in the Ancient County.
"I try to bring people together. And that is what I plan to do, so that we could move Guyana forward," Pilgrim stated, explaining that she will also strive to help citizens of her region.
Pilgrim said while Region Six is more of an agriculture-based community, she hopes to look at issues such as farm-to-market roads, associations for farming and livestock rearing.
Pilgrim, a former teacher, became a co-op officer and later a community development officer, calling herself a 'community person.'
However, it has been reported that her appointment to the National Assembly is a departure from the Cummingsburg Accord signed between the APNU and the Alliance For Change (AFC).
In that agreement, it has been stated explicitly that the minority AFC should have 12 seats in the National Assembly. Pilgrim's replacement of Persaud now gives that party 11 seats.
Immediately after the swearing in, the AFC issued a statement pledging their full support for the new MP, while extending best wishes to her during her sojourn in the National Assembly.
The party also sought to explain that the APNU/AFC submitted a joint list of candidates to the Guyana Elections Commission for the contesting of the 2015 General and Regional Elections.
Under the arrangement of the Cummingsburg Accord, the APNU submitted three names, and the AFC, two, for the Region Six list.
"The AFC having exhausted its two members on that list, it fell on the APNU, as a consequence, to name the replacement for the member who defected," the statement added.
Besides this, the Government has argued that Persaud who voted with the Opposition to cause a collapse of the coalition has dual citizenship for both Guyana and Canada.
The Government claimed that it was on that basis that Persaud's vote was invalid. However, Pilgrim allegedly holds the same privilege, but instead is a citizen of the United States.