The Kingston seawall was the spotlight on Sunday evening as Empire Media Inc & Lashpot Sundays launched Armageddon Clash 2019.
The night kicked off with Determine Family providing early entertainment followed by the DJs who will be competing in the January 26 event.
Dishing out some of what you can expect at the Clash were Selector Face out of Afrikan Vybz, DJ Platinum from Trinity Sound, DJ Keston out of Slingerz Family &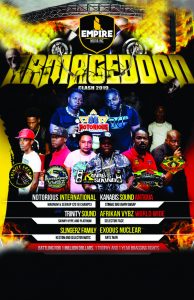 DJ Antz Man from Exodus Nuclear.
In what was a Clash-like style showdown, the DJs thrilled their fans to some of their favourite music. Adding to the excitement were the beautiful Armageddon ladies, who interacted with the crowd and gave away numerous tickets for the event.
Fans were all hyped and ready for what will be the biggest sound clash to hit Guyana. The event will take place on January 26, 2019 at the National Park tarmac.
The DJs, along with Magnum from Notorious International and Stingaz from Kanabis Sound out of Antigua, will battle for $1 million, one trophy and one year's bragging rights.
Tickets for Armageddon Clash 2019 will be available soon.
For more information, you can check the Facebook page "Empire Media Inc" or call 680-6720 or WhatsApp 862-233-0494.