Having grown up in Blueberry Hill in Wismar, Linden Attorney–at-Law Jermaine Jarvis is quite familiar with what hardships face sportspersons, and with that in mind, he has aspirations to better what obtains in Blueberry Hill at the moment.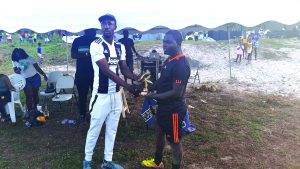 Recently, the lawyer, in collaboration with Special Delivery Promotions, presented two sets of football uniforms and four footballs to the Blueberry Hill United Football Club, after a specially-arranged match ended with Blueberry Hill Back defeating Blueberry Hill Front 1-0 to cart off $150,000 and a trophy, while the losers pocketed $50,000 and a trophy for their efforts.
The game was played on the Blueberry Hill ball field, and after that game, the home boy was so impressed with what he saw that he pledged to further assist in making the ball field one of the best in the country.
In the presence of Regional Chairman of Region 10 (Upper Demerara/Upper Berbice) Deron Adams, Jarvis declared: "This is where I was born and grew. I am originally from Blueberry Hill, and I intend to basically build a pavilion on the ball field, and maintain the ground. In a nutshell, I want that ground to be the best ground in the country, so the community can benefit. Anyone wanting to host anything they can have the use of it."
He added, "I want to funnel everything through the Blueberry Hill Football Club. I intend to collaborate with the club's Secretary, Kellon Josiah, and also intend to visit the Regional Chairman of Region 10, (Upper Demerara/ Upper Berbice) Mr. Deron Adams, to discuss the bigger vision and get him on board as well."
Regional Chairman of Region 10, (Upper Demerara/Upper Berbice) Deron Adams, was one who attended the match, and was pleased with the community support given, as he encouraged other communities to do likewise.
Secretary of Blueberry Hill United, Kellon Josiah, stated that his club welcomes the initiative of Mr. Jarvis, and that the members would appreciate not only such a development be made to the ball field in Blueberry Hill, but it should be replicated across Linden.
Josiah called on persons from the various communities, who are in the diaspora or would have been successful in their endeavours of life, to give back to those communities from which they came.
He said the members and the players were excited and happy, and are looking forward for greater things to come to the community of Blueberry Hill.
Josiah said while some of the players are not originally from the area, but are living there now, he was keen on seeing all those players who are from the area come back and represent Blueberry Hill, as things are happening for them.