…hydrants to be installed
Chief Fire Officer, Gregory Wickham on Monday visited the island of Leguan to meet with residents where the introduction of auxiliary firefighters was brought under focus.
The meeting was conducted at the Neighbourhood Democratic Council in the company of Chairman, Lachhman Dwarkha; Leader of the Leguan Community Policing Group, Mustapha Zaman; representatives of the Guyana Fire Service and several residents.
In his brief remarks, Wickham explained the importance of auxiliary firefighters on the island as well as their roles and responsibilities. Following a recent fire at Wakenaam, the GFS began training persons to conduct firefighting within these remote communities.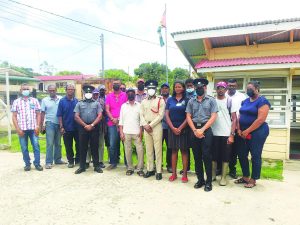 While there are plans for the construction of fire stations on these islands, in the interim, volunteers will be trained in firefighting, fire safety and fire prevention. Firefighting equipment including a light pump and hoses will also be provided for the volunteers to be used in the event of a fire.
A team from the Guyana Fire Service will visit the island next week to conduct the training, along with inspections of Government buildings and school visits. Additionally, Chief Wickham informed the gathering that hydrants will be installed on the island. It was noted that engineers will be visiting soon to earmark the most suitable locations for placement.
In February, the Guyana Fire Service had announced that 12 persons were trained and equipped with firefighting equipment to tackle fires on the Essequibo Island of Wakenaam, Region Three (Essequibo Islands-West Demerara). This move followed an early morning fire on the island that completely destroyed the home of a 54-year-old businessman, Anil Rambarran.
Fire response from the Essequibo Coast and West Demerara was deployed to the island to put out the blaze. As a result, the Fire Service immediately commenced firefighting training of persons on the island – an initiative which extended to other islands.