…to also review standard procedure of ensuring airworthiness of aircraft – GCCA
In the wake of Saturday's incident involving American Airlines plane having to abort its flight, the Guyana Civil Aviation Authority (GCAA) will be examining this matter as a matter of procedure.
This is according to GCAA Director, Colonel (ret'd) Egbert Fields, who explained during an interview with this publication on Sunday the process his agency follows in such cases where a commercial aeroplane has developed technical problems mid-flight.
"In such cases, the report has to be submitted to the civil aviation authority, seeing as it was a loss of pressurisation, and then we will take it from there. Aviation inspectors will begin conducting their investigations," he explained.
"They would have to report to the authority that the aircraft is airworthy before they depart… the inspectors of the civil aviation authority are very competent and efficient," he said, adding that it is likely that such an investigation would be completed within a week or two.
This publication had reported on Sunday that an American Airline flight on its way to Miami had to abort its flight and return to the Cheddi Jagan International Airport (CJIA) in the wee hours of Saturday morning, after losing cabin pressure mid-air. Passengers spoke of feeling horror and the uncomfortable buildup of heat, preceding their mid-air U-turn.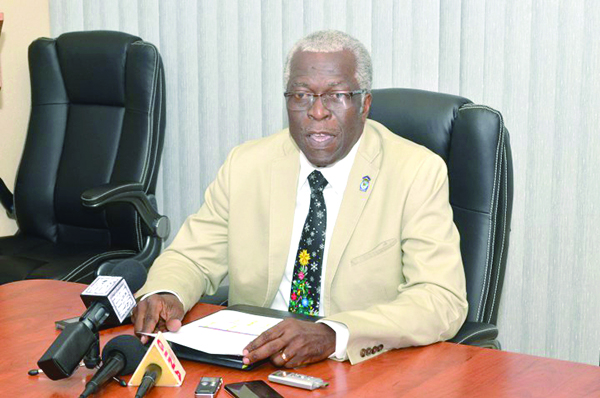 "When the cabin pressure issue developed, the pilot advised us that we're going to travel to Trinidad and that [Piarco] is large enough to accommodate an easy landing with the amount of fuel we had," one passenger explained to this publication.
Meanwhile, another passenger interviewed by this newscast related that the aeroplane cabin started to really heat up at approximately 10,000 feet in the air. She noted that the original plan was to divert from their direct pathway to Miami, to Trinidad.
"From the time it took off, I knew something was wrong. As we started ascending and we reached 10,000 feet, it started getting hot. The pilot said we're going to go to Trinidad and get it fixed. I looked at my map and realised that we were turning back and coming back to Guyana."
"But we didn't just come back to Guyana. We had to burn the fuel. To land with all that weight and bags, we had to burn the fuel. So we were circling and circling for two hours. For me, I'm happy we got safely on the ground."
It was only on Thursday that another American Airlines flight was forced to divert from originally landing at CJIA, going all the way to Trinidad to land. This time, reports indicate that CJIA's lighting system for its runway experienced a failure, forcing the airport to deploy temporary lights.
A senior airport official had explained to Guyana Times that the runway light cables are usually ran underground but because of the ongoing extension works, temporary cables are being used. These, it was noted, were run to the extreme ends of the runway.
"That is just a temporary arrangement but when the runway is extended fully, [the cables] will go back down underground as it would normally be. The temporary cable got loose, it got slack and that caused the lights to go off physically and we had to use the portable lights," the official said.
Nevertheless, the Airport Management assured in the missive on Friday that the portable runway lights that were used comply with International Civil Aviation Organisation (ICAO) standards.
This allowed for the departure of the Suriname Airways flight shortly after midnight and the arrival of Caribbean Airlines flight BW 605 from Port of Spain around 02:12h on Friday.
However, Thursday night's incoming American Airlines flight was diverted to Trinidad, leaving hundreds of passengers stranded in Piarco International Airport in Port-of-Spain and at the Timehri Airport in Guyana.
Passengers who were on the diverted flight complained of being left at the Trinidad airport for hours with little to no word from the flight crew or airline representatives. The same plights were experienced by passengers scheduled to depart Guyana with that same flight.
"I can't comment on the decision taken by American Airlines [to divert] but our runway was operational," the official contended.
CJIA has since assured that the main runway lighting system has since been repaired for operations. According to the official, measures were also put in place to prevent a reoccurrence of Thursday's incident.
Meanwhile, efforts by this newspaper to obtain a comment from American Airlines on the issues with their aircraft were futile. It was only last year that American Airlines launched its flight services in Guyana.