Beverage giant, Bank DIH Limited is the newest distributors of UniCarriers forklift now that the local company collaborated with the manufacturer.
Americas dealer network through the company's automotive dealership was launched on Friday at Caribanks Complex, Meadow Bank, Georgetown.
During his brief remarks, Director of Latin America Sales of UniCarriers Americas Corporation, Eduardo Torres said he is very happy to be on board with Banks DIH.
"We look forward to our partnership and working together to provide reliable equipment to customers in Guyana. You'll see the difference in UniCarriers forklifts from the very start — in the fit and finish of every forklift we manufacture".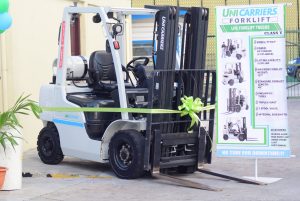 Torres added that consumers will be able to profit from the bottom-line advantages that come from running UniCarriers forklifts.
Chairman of Banks, Clifford Reis welcomed the initiative and thanked the company for the partnership.