Region One 15-Over Friendly Hardball Cricket Competition…
Barbina XI, a cricket team from the Mabaruma sub-region of Region One (Barima-Waini), defeated their Sebai XI counterparts by 7 wickets to win the 15 Overs' Friendly Hardball Competition which was contested last Sunday at the recreational ground in Sebai, a village of Port Kaituma in Region One.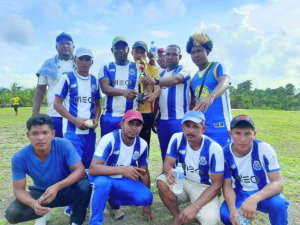 Witnessed by a massive home crowd of Sebai spectators who braved the unrelenting brilliant sunshine, the Barbina XI won the toss and inserted the Sebai XI to bat.
On a lively pitch with a fast outfield, Sebai posted 95-6 off their allotted overs. In trouble from the first ball bowled, they struggled to find their groove, and made a mess of their powerplay overs as wickets fell at regular intervals.
Opening batsman Danny Benjamin made a fluent 33; Devon Benjamin made 16; middle order batsman Randolph Benjamin made 13 not-out, and Sherlon Rodrigues made nine runs before retiring hurt.
Owen James was Barabina's most successful bowler with 2 for 15 off 2 overs; while Orison Sealy and Adrian Hernandez each took 1 for 10, Elwin De Souza took 1 for 15, and Ozell Campbell took 1 for 23; each off 3 overs respectively.
In reply, the Barbina XI raced to 96 for 3 off 10.5 overs. Unlike the Sebai team, they found chasing the target easy, as they practically manhandled Sebai's weak bowling unit. They read the lines and lengths of the deliveries with precision, and Orison Sealy proved to be the most destructive batsman against a hapless bowling attack. He produced an unbeaten 55 (6×6,1×4), for which he was later adjudged "man of the match".
Barabina's opening batsman Ainsworth Pritchard made a well calculated 16, and Anthony Brown at the other end contributed a quickfire 11 to help Barabina seal the victory.
These two teams are expected to play a friendly rematch this weekend at Mabaruma.