Guyana, having won the Junior Caribbean Area Squash Association (CASA) championships for 12 straight years, conceded the title to Barbados yesterday when action came to a close at the Georgetown Club courts.
The Guyanese girls were the first to be defeated, in the morning session, as the Barbadian females won 5-0 in their encounter.
Guyana's Taylor Fernandes lost 5-11, 4-11, and 1-11 to Bajan Meagan Best, while Rebecca Low went down to Amanda Heywood in sets of 3-11, 7-11 and 5-11.
In the third matchup between the two countries, the Barbadian Jodi Smith-Padmore downed Guyana's Makeda Harding 11-9, 11-6 and 11-5. Harding's teammate Abosaide Cadogan then went down to Chelsie Samuel by 11-6, 11-9 and 12-10.
In the fifth and final match, Kirsten Gomes barely offered any resistance to Suimairaa Suleman, who condemned Guyana to defeat with straight sets of 11-2, 11-4 and 11-1.
Guyana's Male team took on their Bajan counterparts in the second session of the day in what was anticipated to be a mouthwatering clash. However, it was a disappointing encounter, as the Guyanese lost 4-1.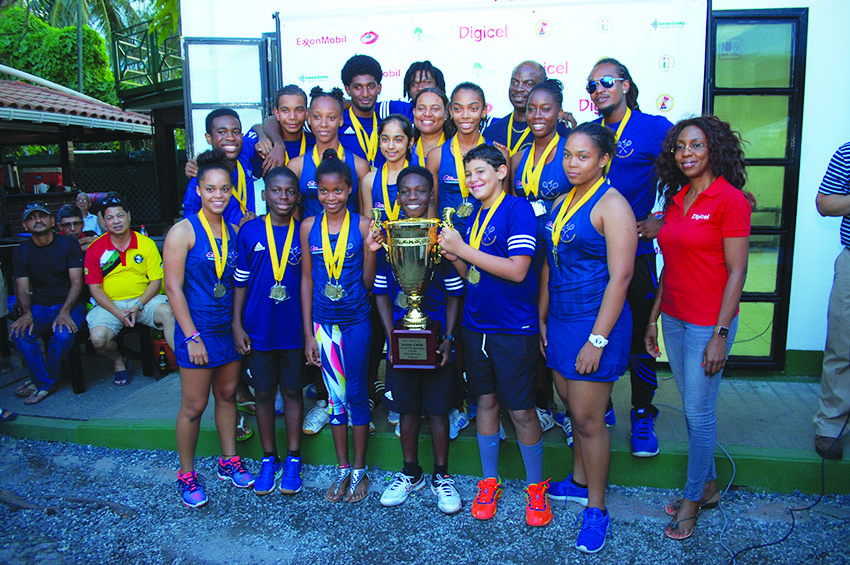 Guyana's Benjamin Mekdeci offered brief resistance before losing out to Josiah Griffith in sets of 14-12, 11-8 and 11-6, while Alexander Cheeks forced a fifth set with Reginald Brewster, who eventually won by scores of 11-5, 11-7, 11-13, 6-11 and 11-6.
Khamal Cumberbatch handed Guyana their third loss when he beat Daniel Islam in straight sets of 11-2, 11-5 and 11-4.
Shomari Wiltshire was the lone ranger for Guyana, claiming their only win when he defeated Darien Benn in sets of 11-2, 11-2 and 11-1.
Michael Alphonso's loss confirmed Barbados's first title win in over 12 years, when Alex Stewart won in sets of 11-13, 11-7, 11-8 and 11-5.
Guyana had previously won the title consecutively from 2005 to 2016.