– CONCACAF U-17 World Cup Qualifiers
Having already beaten hosts Guyana convincingly in the opening game on Wednesday; Barbados will today turn their attention to Cuba today at the National Track and Field Centre in Leonora, West Coast Demerara.
The second match of Group D bodes to be a keen contest as Cuba is known for fluid, composed attacking football while Barbados is physically imposing and specialists at set pieces, as proven from their victory against Guyana on Wednesday.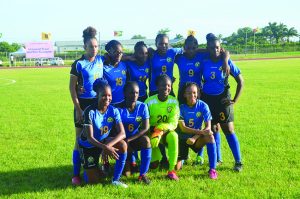 Captain Tia Briggs-Thompson and midfielder Caitlyn Padmore will be two key players for Barbados if they are to beat Cuba and top Group D.
On Wednesday evening an inexperienced Guyanese side was beaten 5-1 by Barbados through a combination of free-kicks, shaky defending and an own goal.
Guyana came out focused and looked to attack their opposition in the opening minutes of the game. However, it was not long before lanky midfielder Tiandi Smith would open the scoring for Guyana in the 12th minute through a well taken free-kick from at least 25 yards out.
Smith would go from hero to zero in the 21st minute when she scored an own goal to the dismay of the sizable crowd and her teammates.
Barbados would score another goal through Caitlyn Padmore to leave the score at 2-1 at halftime.
Captain Tia Briggs-Thompson took expert advantage of pint sized Guyanese custodian with a pair of almost identical free-kicks that sailed over the almost motionless keeper in the 50th and 71st minutes respectively. Tianna Sealey netted the other goal for Barbados in the 51st minute.
Today's game between Cuba and Barbados begins at 17:00hrs and admission is free.