Key stakeholders in Bartica, Region 7, are all in unison with the Guyana Football Federation (GFF) even as a train of events has already been set in motion to facilitate the grand return of competitive football to that riverine township later this month.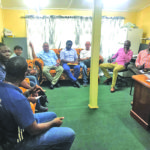 A terrific match is anticipated when Bartica top team River's View Football Club engages in a head-to-head battle with GFF Elite League team Western Tigers on Saturday, December 21st, at the Bartica Community Centre Ground.
This match signals the GFF "Super 16 Cup" tournament touching down in that riverine community; and to ensure that every 'I' is dotted and every 'T' crossed to facilitate this epic encounter, GFF President Wayne Forde has led a GFF team to meet with Region 7 Chairman Gordon Bradford, Regional Executive Officer (REO) Erwin Ward, Bartica Mayor His Worship Gifford Marshall, and President of the Bartica Football Association Alden Marslowe, among others.
In a meeting that took place in the office of the REO, these regional officials expressed delight at Bartica being selected to be one of the venues for the staging of the GFF Super 16 Cup, and promised to pull out all the stops to make the experience a resounding success.
They also articulated their appreciation to the GFF President for bringing football back to Bartica, and assured him of their support in making this event a memorable one. Specific areas of responsibility were also discussed.
Moreover, BFA President Alden Marslowe assured the GFF President that both the association and community would do all that is needed to ensure that River's View FC is ready to deliver a spectacular performance on December 21st.