Filly Ariana's Vision's upset victory over Looking at Heaven in Sunday's feature event – the One Mile Insanally "Sonny" Habibulla Memorial showpiece at Rising Sun race course, had horsemen and patrons tongues' wagging.
They now forecast a mouth-watering clash described as the battle of the sexes unfolding between Ariana's Vision and Alado, Guyana Cup winner and President's Cup winner. The discussion also changed gears as it moved from sexes to young versus 'old'.
Outspoken and fearless, the elderly Fazal Habibulla, Ariana's Vision's trainer, speaking to Guyana Times Sport in an interview said, "…Jumbo (Nasrudeen "Junior" Mohamed's dad) made that race for me. Jumbo like me, you know."
Uncle Fazal, as he is respectfully called, continued, "I was ready for Alado since Sunday. They sending their second best to test me. My horse has a reputation of being sprinter. It was a challenge for me, but it was no challenge. She won very easily. They came up second best. Junior has to get some fresh horses to take me on."
Quizzed on how confident he was about Ariana's Vision heading into the race named in honour of his deceased dad, he replied, "I had to do everything to win this race. I was confident when the race day was pushed back because of rain. Sunday was no ifs and buts. I did not think it would have been that easy."
Fazal, asked if the success was poetic justice, answered, "It was very emotional for me. I wanted to win this race for my father. I just wish he was here. I have won several good races in the past, but this one will be at the top. It will always live with me as it was in his honour. I have dedicated this race to him."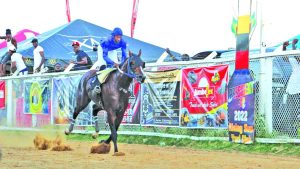 In closing, he stated, "It was a booster for me. I did not have a top horse in a little while. Winning the inaugural running of this race, in her first run for me is also a great feeling. I just want to go again, and win if this race is staged again next year."
"Junior", in response, declared, "I have great respect for Uncle Fazal, and will not want to burst his bubble. He wanted a good horse, and finally got one. Winning that race named in memory of his father could not be a better result. If he wants to take on Alado. He will get his shot. I hope he is not disappointed after the race."
The next time Ariana's Vision will be seen in action is on Easter Sunday (April 9) at Port Mourant, Berbice.