By Brandon Corlette
The Berbice Cricket Board (BCB) successfully hosted a bowling clinic for fast bowlers and off-spinners at the Albion Community Centre Cricket Club on Sunday. Former West Indies Test fast bowler Reon King and former Guyana youth player Sean Devers conducted the sessions with assistance from some Berbice Coaches.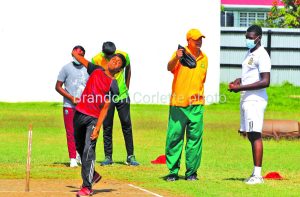 Both King and Devers were impressed with the enthusiastic young players who turned out at Albion.
According to the former Test quick, this is a great initiative by the Hilbert Foster-led BCB. "I love doing what I do here, giving back to cricket, to impart my experience and knowledge into these enthusiastic youngsters. Youths turned out, as expected in Berbice, because of the good work Mr Foster, and his team, has been doing in Berbice," he noted.
The towering King, who played 19 Test matches and claimed 293 First-Class wickets in 95 matches, also spoke about the West Indies U-19 fast bowler Isai Thorne, who he described as an "enthusiastic" youth. "Last time, I saw him he was a lot smaller. I am hearing very good things about him. Sir Curtly has endorsed him, so that's a feather in his cap, good to see him here, to take whatever is on board for him to learn and get better," King explained.
Meanwhile Devers, who is also a Sports Journalist, said it was a good session, and he was impressed with some of the talents on show. "Well, it was a good session. I have seen a couple of young talents, but the bowlers are bowling a bit too fast. Some of them do not have the right bowling techniques, but they are still young. Some of them have good techniques, those who played for Guyana. We spoke about consistency and bowling the arm-ball. I focus about control, let the batsmen make the mistake, spin bowling is a game of patience," Devers said.
These BCB-organised clinics would be held under the Board's highly-successful countywide Dr Tulsi Dyal Singh Coaching Programme. In the past, hundreds of Under-19 players have benefited from the programme, which is sponsored by overseas-based Guyanese Dr Singh.
The Board has since expanded the programme to include former national and international players who are highly respected in the county and are viewed as positive role models. Guyana Jaguars Captain Leon Johnson is also expected to visit the Ancient County to conduct a clinic shortly.