…county to have adequate covers by next month
President of the Berbice Cricket Board, Hilbert Foster, during his Annual Report to members of the Board last December, made a commitment to acquire a total of three more cricket covers measuring 100 by 24 feet by the end of his third term in December, 2023.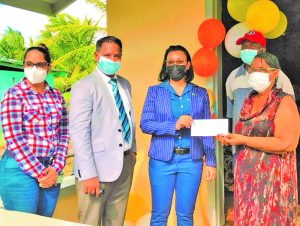 Foster, who leads an aggressive marketing team for Guyana's most vibrant cricket board, on Friday last announced that the commitment would be fulfilled by the end of February 2022, almost two years prior to the set time.
Foster, who has spearheaded a major revival of Berbice cricket since his election in 2018 after Court-ordered elections, has said that obtaining covers for pitches is one of the board's main objectives, as several major matches have been badly affected by rain.
The BCB was first able to obtain a set of covers in 2020, and it has been stored at the historic Albion Cricket Ground. The board, in late 2021, then obtained funding from a friend of Berbice Cricket, who lives way down in Australia, to purchase a second set of covers, which are housed at the Cotton Tree Cricket Club and are used for cricket in West Berbice.
Minister in the Ministry of Housing and Water, Susan Rodrigues, last Friday officially handed over a cheque for $325 thousand towards obtaining one set of covers. Rodrigues had committed to raising funds to purchase the covers during a meeting to discuss areas of cooperation at her Brickdam office. The cheque was donated by Vitality Inc at the urging of the Minister, and the covers would be handed over shortly to the Upper Corentyne Cricket Association for use in the area.
Foster has noted that that area, which has 28 teams, plays a lot of major finals, and the covers would be a major boost towards reducing the hours of play affected by the weather. The UCCA, he said, would be responsible for storage, transportation and upkeep of these expensive covers, but warned that it should not be used for privately-arranged festive matches.
Longtime overseas-based donor Dr Tulsi Dyal Singh has also pledged to make the covers' project a success by donating $680 thousand dollars towards obtaining the other two covers. These covers, which would be purchased next month, would be stored at the Area H Ground in Rose Hall Town in the Lower Corentyne area, and at the Edinburgh Ground on the East Bank of Berbice.
Foster noted that with these investments being made by the BCB, Berbice cricket finals and crucial matches would hardly be affected by adverse weather. The BCB would also be prepared to host major inter-county matches, along with regional tournaments organised by Cricket West Indies. The five covers combined would safety protect the entire cricketing square at any ground, and Foster has hailed this as a positive development for Berbice cricket.
Two of the covers were recently used at the Albion Ground for the GCB best of the best matches, and Foster has boasted that the days of major matches being washed out by heavy downpours are fast becoming a thing of the past. The BCB, he stated, would continue to seek ways of obtaining more covers, and he committed to obtaining one set for the Berbice riverine area before the middle of this year. He proudly noted that never in the history of Guyana Cricket has a county board invested so heavily in protection against the weather.
Gratitude has been expressed to Minister Susan Rodrigues, the management and staff of Vitality Inc, and to Dr Tulsi Dyal Singh for their cooperation in obtaining the last three pairs of covers. Foster has promised that those covers would be taken care of.