GCB Female Inter-County U-19
Berbice recorded a convincing victory over Demerara — their second victory of the Guyana Cricket Board's (GCB's) Female Under-19 Inter-County T20 Tournament – and were thus crowned champions of the tournament.
Berbice restricted the hosts to 68 in 17.2 overs, before replying with 69-1 in seven overs, to win the match by nine wickets at the Everest Cricket Club Ground on Sunday.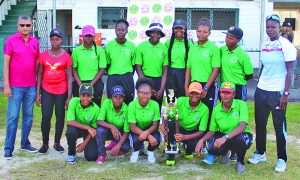 Abigale Scott who batted in the middle order and scored 28 not-out, which included two fours and a six, was the only 'positive' for Demerara during their turn at the crease, as Berbice skipper Shabika Gajnabi spearheaded her team's bowling with figures of 3 for 4 from four overs.
Omadevi Matadin and Sheneta Grimmond supported their skipper with two wickets apiece, ensuring the Berbice batters had a small total to pursue.
The Berbice response was led by Marian Samaroo on 25 not out, and Gagnabi on 11 not out. Grimmond was the only victim in the chase.
In the other match, Essequibo came out victorious against the President's XI.
After being inserted, Essequibo, playing with nine players, made 88-8 in 12.2 overs. Stacy Moses (20) and Keshia Tucker (16) were the main scorers; while Kassica Monroe's 4-28 created misery for the Essequibians.
President's XI could manage only 41 runs, and that at the expense of 9 wickets, as the innings closed in 10.3 overs. They fell short of achieving the target by 47 runs. Kemonie Thomas bagged 6 for 9 from three overs.
A squad of 20 players will shortly be selected for practice; being reduced to 14 who will play at the regional level.