– Police hunting suspect
A fire believed to be an act of arson destroyed a two-story building at Number 29 Village, West Coast Berbice, on Saturday leaving four persons homeless.
The building was owned by retired teacher and community worker Marsha Gouveia but at the time of the fire, she was not at home.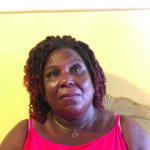 However, she noted that prior to the house going up in flames, her husband had threatened to burn it down.
According to Gouveia, on the day in question, she had to officiate a wedding and as such, she asked her husband, Errol Adams, if he wanted to go but he replied in the negative.
"While I was officiating, the waitresses came to me and said 'Teacher Marsh, your husband is molesting us'. When I looked out, I saw him in a short pants and a jersey whining up and down the place. As soon as I was finished, I went to him and the said 'Errol, how could you do this to me'."
Gouveia noted that as soon as she was finished her part at the wedding, she went outside to her husband and told him that she was leaving.
"When I reach home, he come and accused me, saying that I don't want to walk with him when I see my men on the road."
According to her, it was at that time, he threatened to burn the house down. She noted that her husband had given her $15,000 and asked for her to return same.
"With that, I grabbed the little boy and put him on my shoulder and run out of the house and come to my friends who are here from overseas", the woman stated.
Moments later, her husband arrived at the house, demanding his money but the upset woman promised to return the money the following morning.
He, nevertheless, left in a rage and soon after, flames were seen emanating from her home. Adams was seen running away from the scene.
According to Gouveia, Adams vowed several times to burn the building down. She added that she has been conducting free lessons for children in the community in spelling, reading and Mathematics.
She lived with a daughter who is a primary school teacher and a great-nephew along with Adams. The woman estimated her losses at $15 million.
Meanwhile, Police are on the hunt for Adams. The couple has been together for the past nine years.