…says many at his age can't do some things he can do
John Rudder, also called "Johnny Walker", of Islington, Greater New Amsterdam, Region Six (East Berbice-Corentyne), celebrated his 101st birth anniversary on Wednesday last. Rudder was born on July 12, 1922, and grew up at Kortberaadt and in other villages on the East Bank of Berbice.
He attended the Friends Primary School, EBB, and after completing school at the age of 15, Rudder worked for several years at the Friends and Providence Estates, located then on the East Bank of Berbice. His first wife, Kulsum, passed away 68 years ago in childbirth. They had six children. Three years later, Rudder remarried after an aunt of his current wife brought him a proposal.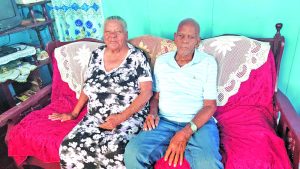 "She said, 'I would bring my niece for you to get married to she'. So, I asked her, 'Why?', and she said that her shadow take me. 'You seem to me like a good gentleman'. She did bring her niece. When I saw her for myself, she was fairly favoured," Rudder said as he reminisced on his first time meeting the lady whom he later fell in love with.
Rudder and Margaret are still together today, and have four children. She is 95 years old.
Speaking on achieving the milestone, Rudder said he feels as strong as ever. "At 101 years, I am very proud to know that I am alive now without feeling a pain in my head, foot, or anywhere on my body. I am just ordinary, taking my meals regularly, and I feel my strength as if I am young again," Rudder said.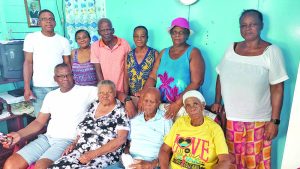 He starts his daily routine with prayers, and at about 9:00h, he would position himself where he can get some sunlight once the sun is out. Asked how he spends his days, Rudder stated, "Anything the wife wants me to do, I will do. I make myself happy. I do things that I know that none of my friends and other people that I know at my age can do." He said he knows of one other person who shares the same age as he.
Three of Rudder's ten children have passed away. He currently has more than 150 grandchildren, great-grands and great-great-grands. He enjoys fresh vegetables and herbal tea, and reads without the aid of spectacles. As a Seventh-day Adventist, there are many kinds of meat that he does not eat, and he does not consume alcoholic beverages.