The two Berbice sisters who were caught on video insulting and assaulting Police ranks at the Rose Hall Police Outpost were on Thursday slapped with 10 charges altogether when they appeared at the New Amsterdam Magistrate's Court.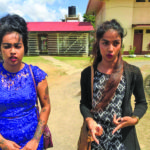 Twenty-eight-year-old Hemwattie Singh, known as "Mona", and 22-year-old Yasminie Ramsew, known as "Tina", of Corentyne, Berbice, Region Six (East Berbice-Corentyne), appeared before Magistrate Peter Hugh and pleaded not guilty to the charges.
Ramsew was charged and granted $30,000 bail for dangerous driving, $10,000 bail for resisting arrest, $10,000 for disorderly behaviour and she was released on her own recognisance for the other charges.
Ramsew allegedly drove motorcar PTT 5628 in a manner that was dangerous to the public on the Rose Hall Public Road, she failed to report an accident, failed to stop at the accident scene, resisted arrest, disorderly behaviour and assaulted a peace officer.
Singh, on the other hand, was charged with damage to property, assaulting Peace Officer Umkar Sukhnanand on the Port Mourant Public Road, resisting arrest and disorderly behaviour.
She was placed on $30,000 bail for the damage to property charge, $10,000 for assaulting the cop, $10,000 bail for resisting arrest and was released on her own recognisance for behaving disorderly.
Police Prosecutor Rudolph Poliah had objected to bail being granted to the two women.
When asked by the Magistrate to give one reason she should grant them bail, the sisters claimed that they were beaten by a female Police Officer at the same Rose Hall Police Outpost.
Taking into consideration the reason, the Magistrate granted bail and they will make their next court appearance on January 6, 2020. The matter was transferred to the Whim Magistrate's Court.
The video with the two sisters being detained went viral on social media on Wednesday evening. In the video, the women can be heard uttering expletives along with racial remarks at Police Officers.
The release of the video purportedly by a police officer has clearly violated the privacy of the two women while in police custody.
One of the sisters allegedly pushed a Policewoman who was warning her about her conduct.
Police on Wednesday said that the incident occurred on December 2, 2019, and the women were released on bail.
They were required to appear in court after legal advice was obtained in respect of "certain utterances/remarks" against the ranks as expressed in videos.
Police also stated that shortly before the incident at the Outpost, Ramsook was driving motorcar PTT 5628 when she reportedly struck a parked vehicle on the Rose Hall Public Road and drove away.
Police said that the vehicle with the women was intercepted at Port Mourant, Berbice by a Police patrol shortly after which they were escorted to the Rose Hall Outpost. Both sisters were reportedly under the influence of alcohol.