Four new lines of the famous Seventh Generation products were launched in Guyana as part of the support for promoting a greener economy.
The Eco Atlantic Investment Company on Tuesday launched the products at Cara Lodge, Georgetown.
The sole distributors of these products are the Eco Atlantic Investment Company, run by two women, Sophia Dolphin and Miranda Takur.
The Seventh Generation products are all plant-based, and have been around for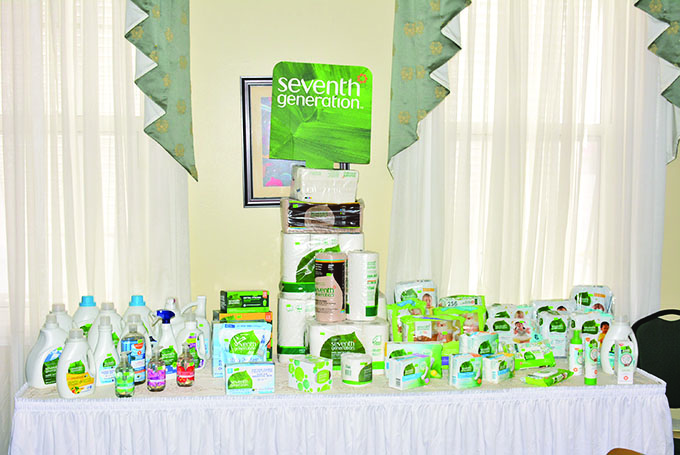 over 28 years. The company is known for promoting ecological products. At the launching, it was disclosed that the company, out of 400, won the right to use the US Department of Agriculture bio-preferred label.
According to co-founder of the company, Sophia Dolphin, it is important for Guyanese to begin demanding more organic products on store shelves.
"We at Eco Atlantic are encouraging all Guyanese that when you go to shop, learn more about your products, practise that habit because it is happening worldwide, and we encourage you not because it is the right thing to do, but because it is safe for us and helps us to live longer."
In attendance at the launch was First Lady Sandra Granger, who called for eco-products to be manufactured and promoted right here in Guyana.
She noted that while locals were importing these products, similar products were being manufactured here.
"While we are importing eco-friendly products, look at what we are producing here and we are going back to many of the things that we used as children. We are seeing products like crab oil and coconut oil and all those things coming back, so we might want to look at a fusion of those things and see how you can use your marketing expertise to sell them internationally."
Georgetown Mayor Patricia Chase Green, who was also present at the launch, endorsed the products.