A 23-year-old boat operator, who is accused of breaking into a shop at Itaballi Landing, Region Seven (Cuyuni-Mazaruni), was remanded to prison when he appeared at the Georgetown Magistrates' Courts on Monday.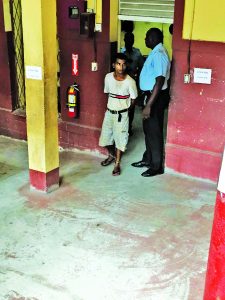 Inbal Sheobalis of Supenaam, Region Two (Pomeroon-Supernaam), appeared before Magistrate Sherdel Isaacs-Marcus and denied the charge.
It is alleged that on September 3, 2019, at Itaballi Landing, Region Seven (Cuyuni-Mazaruni), he broke and entered the shop of Marcella Jeffery and stole a number of items and cash to the total value of $51,200.
The prosecution's case, presented by Police Prosecutor Quinn Harris, stated that on the day in question, the woman secured her shop and went to bed.
The court heard that hours after, she was awakened by a noise and upon checking, she observed her shop ransacked and articles missing.
The matter was reported and Police, upon reviewing Closed Circuit Television (CCTV) footage, saw Sheobalis breaking into the shop. He was subsequently arrested and charged. He was remanded to prison and the case will continue on September 18 at the Bartica Magistrate's Court.