The woman, whose body was found on Friday at La Grange, West Bank Demerara (WBD), has been identified as Nirmala Sukhai, a 33-year-old female labourer.
Reports are that the Lot 35 Factory Dam, La Grange, WBD woman's body was found on Friday at 16:00h.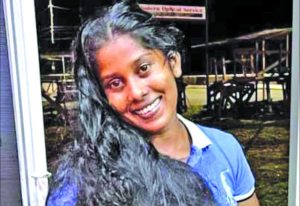 It is suspected that the woman died sometime between Thursday at about 23:00h and 16:00h on Friday.
Based on reports, Sukhai resided alone in a flat, two-bedroom concrete house.
Her body was identified by her 54-year-old mother, Savitri, of La Grange Public Road, when she made a visit to her daughter's home.
The woman said she discovered her daughter's lifeless body in the house, lying face down on her bed. She was at the time clad in a pink top, without any undergarments.
A reddish substance that appeared to be blood was seen oozing from her mouth. The scene was canvassed and a pair of grey short pants were found on the bed. Police said it appeared as though it was cut from the back.
A knife with a brown handle was also found under the deceased's body on the bed.
The woman was taken to the West Demerara Regional Hospital where she was pronounced dead on arrival. On Saturday, Police said that while several persons have been questioned, no one was arrested.
The matter is being treated as a murder. Investigations continue.