The lifeless body of a man was pulled from the Atlantic Ocean in the vicinity of Windsor Forest Seawall, West Coast Demerara (WCD) on Tuesday afternoon after he was suspected to have drowned.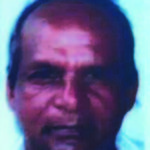 The dead man has been identified as 70-year-old Pitamber Budhu, called "Moti", of Lot 97 Fourth Street, Windsor Forest.
Police Commander of Region Three (Essequibo Islands-West Demerara), Simon McBean when contacted told Guyana Times that persons in the area observed the body floating in the ocean and quickly mobilised a team to retrieve it.
Following the discovery, Sharmila Sewnarayan, a niece of the dead man, explained that her uncle had left home around 15:30h to perform a religious ritual at the seawall. However, they received a phone call shortly after informing them of a body being pulled from the water.
"This afternoon he left to go to the seawall to throw out the old jhandi flag in the sea and a few minutes after, people called us saying somebody died at the seawall, and we were waiting for him to come home to tell us who it is," she stated.
Sewnarayan added that after the phone call, she informed other relatives, but they did not expect the deceased person would have been Budhu.
"I told my aunt same time that how somebody die, and she told me that he (Mito) gone and he gon come home just now to tell us, not knowing that it was him," the niece related.
The pensioner leaves to mourn his wife, two children, and grandchildren.