– Plus Return scripts major upset in J & Lower race
By Brandon Corlette in Berbice
Canadian-bred horse Bossalina clinched the feature event at the Kennard's Memorial Turf Club at Bush Lot Farm. Owned by Armanauth, Bossalina was piloted by Trinidadian jockey Nichols Patrick, who emerged as champion jockey after winning four races in the day.
Three horses started in the feature event, which was held in memory of the late Justice Cecil Kennard. Bossalina finished ahead of America Traveler and Marconi, who suffered an injury at the end of the day. The seven-furlong race, which was sponsored by the Kennard family, was an exciting one in nature, and Mrs Chan Kennard made the presentations.
How the day unfolded
In the opening race of the day, Stormy Girl piloted by Jockey Patrick took top honours while Top Ranking came in second in the K & L Non Earner (Lifetime). Princess Sasha came in third while Part Hard rode in fourth.
Race two was the K & Lower and three-year-old Guyana Bred Open event. Amazing Grace of the Dwight Waldron Stables took a close win. Jockey Patrick again showed his class to win back-to-back. Amazing Grace pipped Not This Time and Rough Ride in an exciting finish. Sarkar was the other finisher that rounded out the top four.
Race three saw only three starters and only two horses finished in the H & Lower event. Jockey Kellman piloted It's My Choice to a dominant victory while fast-starter Marconi came in second. Unsettled Heart suffered a medical issue and failed to complete the race. The horse, which is from the Waldron Stables, was seen bleeding.
Jockey Patrick then displayed his control and speed yet again, picking up his third win of the day. He piloted Clear Sky to a crushing victory in the three-year-old Guyana Bred Maiden. Eight horses, who were all riding for the first time at this event, got the Kennard's Memorial Turf Club on their feet. Stork Town held out for second spot while Hardcore and Royal Flight rounded out the top four finishers in that order.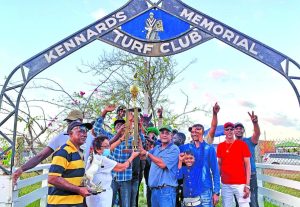 Race five, which was the penultimate race of the day, saw a major upset when Plus Return took the field by storm. Plus Return took the first prize in the J & Lower race, finishing ahead of Dan Star, Foreign Link and Cash Return in that order.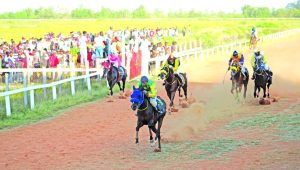 This event was sponsored by the Kennard family, Amarnauth Munishwar, Horseshoe Racing Service, Torginol Paint Inc, Shell Mohammed, Peter Lewis, George Ramlall, Poonai Pharmacy, Kanhai's Guyana Electrical Agency, Church's Mouth Watering Chicken (Rose Hall Town and Georgetown) and Metro Office and Computer Supplies.
The next horse racing meet is set for April 9 at the Port Mourant Turf Club.