IAAF World U-18 Championships
Guyana's Chantoba Bright finished among the top six in the Women's Long Jump event at the IAAF World U-18 Championships in Nairobi, Kenya on Sunday evening.
Bright, recent winner of gold at the South American U-20 Championships held in June on home soil, finished fifth among a field of 14 athletes when she recorded a best attempt of 6.14 metres, some distance behind her personal best record of 6.30m.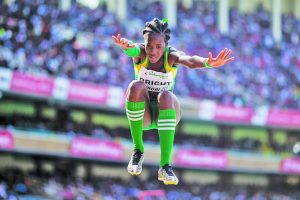 China's Luying Gong won gold with a leap of 6.37m, while German Lea-Sophie Klik took silver with 6.30m and Diane Mouillac took bronze with a jump of 6.28m.
Guyana was represented at the Games in Nairobi by Daniel Williams and Bright, the two have been successful on the international stage in recent times, with Williams producing the run of his life in the 400 Metres final on Friday to take silver in an all Caribbean top three finish.