The Police in Berbice have arrested a man in connection to Tuesday's stabbing of a security guard in New Amsterdam, Berbice, Region Six (East Berbice/Corentyne).
The man is said to be the brother-in-law of the now dead security guard and also shared the same home with him.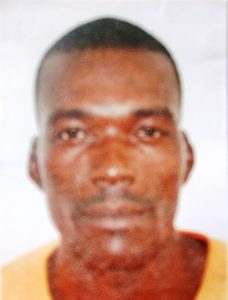 Acting on information, investigators went to a house situated at Lot 46 Stanleytown, and nabbed the suspect. The home is owned by a friend of the suspect.
According to a source close to the investigation, the suspect has been cooperating with the investigation and has since confessed to the crime.
The body of NKomo LaRose called 'Komo' 29, of Lot 54 Stanleytown, New Amsterdam was discovered lying in a drain at Lot 41 Stanleytown at about 06:30h on Tuesday.
The body had one stab wound to the chest.
Meanwhile, the suspect was taken back to the scene on Wednesday afternoon where he provided investigators with details of how the alleged murder was committed. However, the murder weapon was not found.
The two brothers-in-law were allegedly involved in a heated argument on Monday afternoon which escalated later that evening.
The dead security guard's wife, Asha Bailey, who is also the sister of the suspect, had reported that she had called the Police after both men had armed themselves with a cutlass and a knife.
It was after she had left the home and went to her grandmother's home about a quarter mile away, that her brother turned up carrying two knives claiming that he was there to kill his sister.
However, his grandmother Silvya Moolyneaux instructed him to leave the yard.
She had told this publication that at the time the gate was padlocked, and she was not sure whether her grandson jumped over the gate or the fence.
Meanwhile, at the scene on Wednesday, the suspect told investigators that it was after he jumped out of his grandmother's yard that he saw LaRose approaching.
He detailed that he ran at LaRose while holding the knife in his hand. LaRose made an attempt to run but this proved futile.
The man confessed that he plunged the knife into LaRose's stomach and fled the scene.
Blood stains on the road suggests that the injured man attempted to get to his grandmother-in-law's yard.
Police are continuing their investigations. A post mortem is expected this week.