The People's National Congress Reform (PNCR) on Friday leapt forward to call for "at least" 25 per cent increase in wages and salaries for public servants as Budget 2022 is soon to be presented to the nation.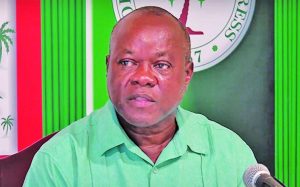 This was proposed by PNC Leader Aubrey Norton during a press conference where he demanded an interim increase in wages and salaries of public servants of 10 per cent pending the start and finalisation of Government-Union talks on wages and other benefits.
"At the end of the day, workers must get at least 25 per cent in wages and salaries increase," he stated.
Along with this, he also put forward an increase in the income tax threshold to $1.5 million or one-third of gross earnings, whichever is higher, from the present $780,000.
In addition, Norton called for an increase of $10,000 per month in the old-age pension; payment of a COVID Risk Allowance to all eligible frontline workers of $50,000 every six months; a grant of up to $5 million to eligible existing micro, small and medium businesses as well as start-ups.
He also asked that Government set aside about $5 billion to implement a programme of infrastructure renewal in depressed villages and communities, entailing roads, drains, community and recreational centres and markets.
Just last month, the PPP/C Government announced a seven per cent increase for over 50,000 public servants, teachers, members of the Disciplined Services, and Government pensioners. The retroactive salary increases along with the substantive December salaries and pensions placed $10.5 billion in the hands of these categories of Guyanese.
This injection was expected to stimulate economic activity across the country by increasing the disposable income.
During this time, $250,000 one-off cash grants were distributed to each of the severed sugar workers from the Enmore, Skeldon, Rose Hall and Wales Sugar Estates. This totalled over $1.3 billion.
In 2020, the Government immediately implemented a COVID-19 cash grant, where $25,000 was disbursed per household. In 2021, the monthly old-age pension was increased from $20,500 to $25,000 and public assistance increased from $9000 to $12,000. In August 2021, special measures were announced for the provision of a one-off grant of $25,000 to all old-age pensioners, public assistance recipients, and persons living with disabilities.
The Government restored and increased the Because We Care cash grants of $19,000 to the parents of school-age children and further extended the programme to children attending private schools.
Importantly, the Government has also committed $400 million for a special 2021 payout to be made to frontline workers in the health sector who continue to support our health sector in facing the new and ongoing challenges posed by the COVID 19 pandemic.