The Linden to Lethem trail is yet again in a deplorable state as the rainy season persists. The minibus operators plying the Lethem and Mahdia routes have complained bitterly of the deteriorating conditions of the trail which they are forced to use to transport passengers and goods as a means of earning their daily bread.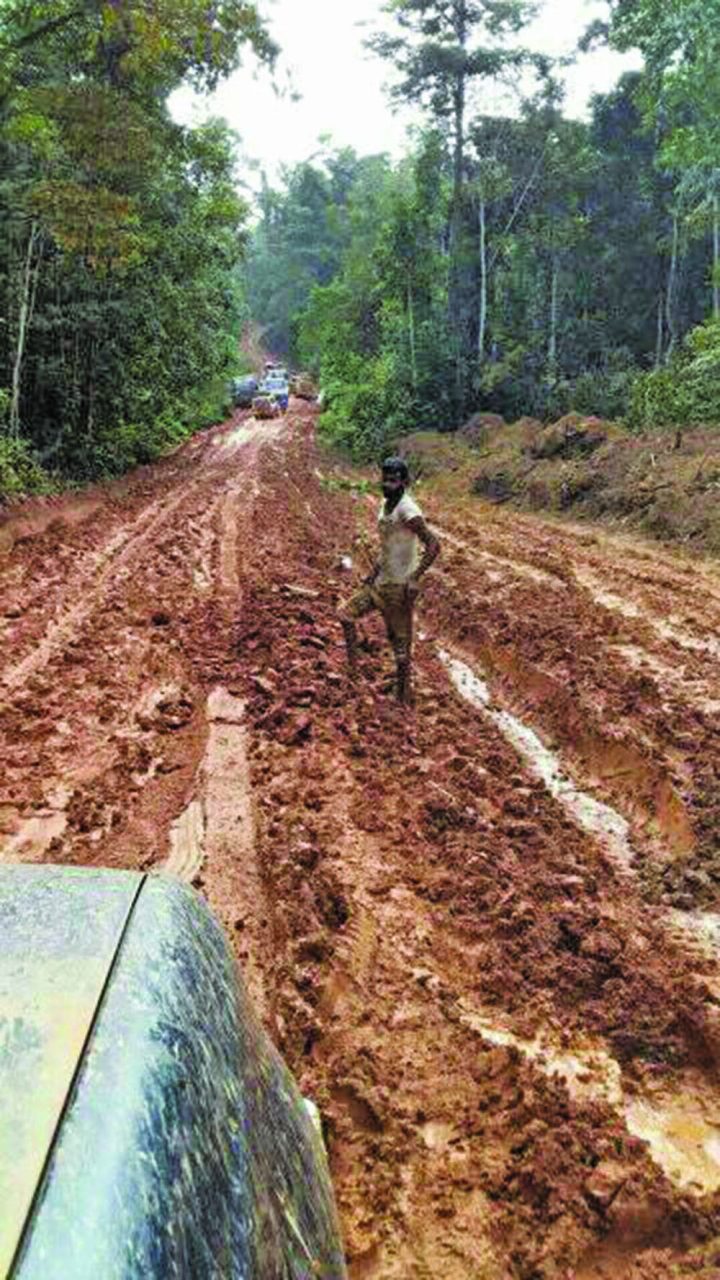 The bus operators who reached out to Guyana Times on Sunday described the trail as a "death trap" and bashed the Public Infrastructure Ministry for paying zero interest in conducting long-term repairs to that trail which is the only access to those areas.
The trail has been in a deteriorated state for years and worsens during the rainy seasons after which minor substandard repairs are done on certain patches and the problem continues to recur.
A route 72 bus driver, Keith Daniels, on Sunday told Guyana Times that he was forced to park his minibus due to the condition of the road since the risk of making a trip is way more than its gains.
"To be honest, since Wednesday I ain't make a trip. The last trip I make last week I had to come and take my bus to the mechanic and spend a set of money which I didn't even make. This trail just getting bad to worse. Destroying people bus. The Government need to do better than what they are doing. The small man punishing in this place. You struggling to get load to go up and when you do, you are faced with that trash for a road. We got families to feed and we gotta pay mortgage and even pay for the same bus that destroying in that mud. This could be fair," he argued.
Meanwhile, another driver, Kendall Richardson, who also reached out to this publication, called for the Government to put measures in place for urgent and long-term repairs and maintenance of the road.
He said that the drivers are suffering since they are forced to use the road in the present state as best as they can in getting passengers into and out of Mahdia just for an income to take care of their needs. He stated that at times, the buses get stuck and are left to wait for several hours until a truck or pick-up passes for them to seek assistance in getting their bus pulled from the mud.
This, he said, is unacceptable and called on Government through the Ministry of Public Infrastructure to come up with a plan to commence repairs to the road soon.
Mayor of Mahdia, David Adams in an invited comment said that the trail is in its usual state, however, vehicles are still able to traverse.
He explained that during the rainy season, some attention needs to be paid to the trail on a particular stretch between Mahdia and Mabura which is in dire need of repair.
He noted, however, that there are no plans in place for such rehabilitation works by the council.
"Getting in is very difficult and some works have to be done in the short term to offer relief to those traversing," he said.
Meanwhile, it was recently announced by the Public Infrastructure Ministry that sections of the damaged road in Mahdia were being repaired after the recent flash flooding. The bridge at Red and White, which had been washed away, was replaced by wooden planks until those works are executed.
Public Infrastructure Minister David Patterson had told this publication that the pathway was opened for vehicular traffic on both lanes.