Better Hope robbery-murder
…as Police continues probe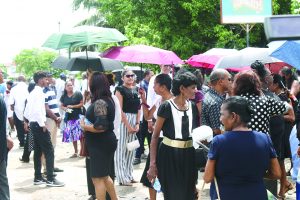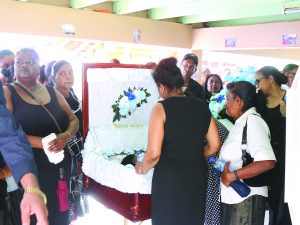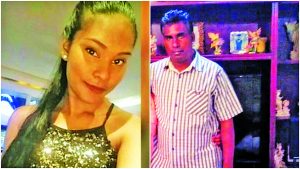 Hundreds of family members and friends on Wednesday crowded the home of Aaron Latchman as they paid their respects to the businessman and his daughter, Arianna Latchman, who were both killed on June 4 at their Better Hope, East Coast Demerara home.
Latchman, a money changer, had dropped off his younger daughter to her lessons and upon his return home, he was confronted by the two gunmen. He was held at gunpoint and escorted to the upper flat of his home with his 18-year-old daughter.
Reports are that the teen was attacked and shot to her chest when the bandits entered the house through the back door and began demanding cash.
They then escorted Latchman into the yard where they shot him multiple times before escaping with a bag of cash.
On Wednesday, relatives were still trying to come to grips with what occurred on that faithful day. They remembered the two as loving and caring and always fun to be around.
One relative, while sharing a brief tribute at the home, said, "I know Terry (Aaron) from a child growing up and I can tell you today this is indeed sad. I want to let the rest of our family know that in this hour, God is still our source".
Another grieving relative who took the microphone at the brief ceremony said he just thought the family should know that they are being prayed for and all justice will prevail.
Latchman's wife was inconsolable and Guyana Times was told that she has been having a difficult time accepting the passing of both her husband and daughter.
Following the tributes at the family's home, where hundreds of persons gathered to bid farewell to Latchman and his daughter, their bodies were taken to a nearby church for the final rites to be conducted before being transported to the burial ground.
Investigation
Meanwhile, Police have arrested four persons, who have since allegedly confessed their involvement in the murders but not before implicating a friend of the now dead man.
Based on information received, one of the gunmen was arrested at Front Road, La Penitence, Georgetown, after Police swooped down on a house there.
After his arrest, he took the Police to Dennis Street, Sophia, Greater Georgetown, and Parika, East Bank Essequibo, where the others were arrested.
Additionally, a motorcar used by the bandits that belonged to the dead businessman was found at Front Road, La Penitence. During a search of the vehicle, an illegal firearm and several rounds of ammunition were found.
The firearm has been sent for ballistic testing to ascertain whether it was the same firearm that was used to kill the America Street, Georgetown, moneychanger and his daughter.
After intense interrogation, the four men have confessed to the heinous crime while implicating an East Coast Demerara businessman.
They claimed that they were paid a handsome amount of money to kill the businessman and make it look like a robbery.
As such, the Police have since launched a manhunt for the man, who might have had an issue with the now dead businessman over a money deal that went wrong.
All the men who were arrested are well known to the Police since they were all previously charged for armed robbery.